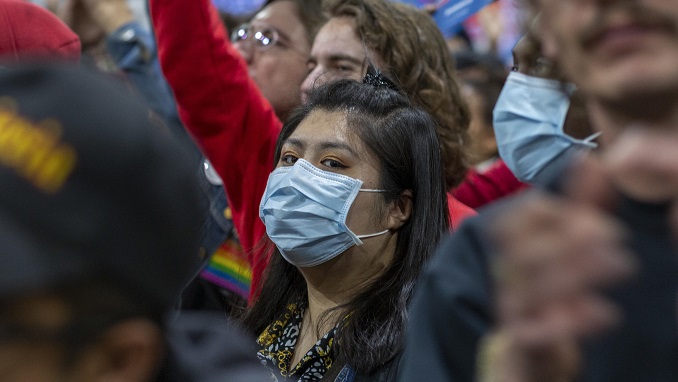 The world's average coronavirus infection rate in February has declined by half in contrast to January's peak, the World Health Organization said on Tuesday, TASS reported.
Over the past day the WHO registered 444,500 new coronavirus infection cases, one of the lowest rates since the beginning of this year. Fewer cases were identified only on January 26 (424,200), while this year's highest rate – 870,800 cases – was on January 10.
According to TASS calculations, infection rates have been on the decline in most countries in the top twenty. In the United States, 125,500 new cases were registered in one day, which is less than half than January's peak rates. Infection rates dropped more than 50% in Brazil, Colombia and Argentina and by two-thirds in Mexico. Peru is the sole exception, where after a two-month-long plateau the pandemic entered into a new growth phase.
Europe has seen lower coronavirus infection rates almost in all 20 countries where the number of infections is the largest. Italy over the past day identified less than 8,000 cases – a record-low since the middle of October. In the Czech Republic, COVID-19 rates slumped by 84% in contrast to January's highs, in Germany, by 75% and in Britain, Poland and Ukraine, by 66%. France is an exception. The number of new cases there stays at about 20,000. Spain in the first ten days of January entered into the third, most active growth phase during the pandemic.
India over the past day exposed about 8,600 cases, which is the lowest rate since June and a tiny one-twelfth of last September's record highs. Turkey registers less than 8,000 cases a day – nearly half of January's highs and a quarter of December's highs. In Iran, the daily infection rates have stayed at a level of 6,000-6,500 cases a day since the end of December (half of the November rates). Indonesia is an exception. The pandemic there is in the growth phase (about 12,000-14,000 cases per day). In South Africa the disease is firmly on the decline – 2,500 cases were recorded there in one day, which is the lowest rate since the beginning of December. In January, that country repeatedly saw more than 20,000 cases of the coronavirus infection a day.
All in all, the World Health Organization has registered more than 102.5 million cases of the infection. The virus has killed more than 2.2 million. In 19 countries there have been more than one million COVID-19 cases. In the Czech Republic, the last country on the list of the top 20, a total of 987,300 people are known to have contracted the virus.