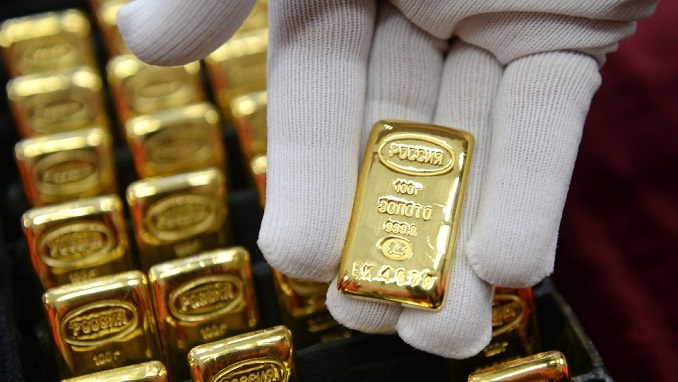 Gold lifted off an early six-month low and went slightly up on Thursday, as the U.S. dollar fell from an 11-month high, with traders saying they heard Russia had been increased its bullion purchases, Reuters reported.
Spot gold was up 0.2 percent at $1,265.4 an ounce at 1501 GMT but off a low of $1,260.84, its weakest level since Dec. 19. U.S. gold futures for August delivery settled down $4, or 0.3 percent, at $1,270.50 per ounce.
"Gold started to pick up as the dollar weakened," said RJO Futures' Dan Pavilonis.
The dollar fell off an 11-month high against a basket of major currencies as the Philadelphia Federal Reserve's gauge of U.S. Mid-Atlantic business activity fell to a near 1-1/2 year low, spurring profit-taking on the greenback.
Higher U.S. interest rates and the prospect of further rate hikes this year from the Federal Reserve have boosted the dollar to its highest since last July against a basket of major currencies. Higher interest rates would encourage investors to sell gold, which earns nothing and costs money to store and insure.
Traders said they have seen gold purchases come from Russia.
"We've been hearing in the news over the last couple weeks that Russia has been buying more gold and selling U.S. Treasuries," Pavilonis added.
Russia could be attempting to shore up its currency because of falling crude oil prices, said George Gero, vice president of RBC Capital Markets.
"And also, they are a large producer of gold and they may be trying to stabilize the market," Gero added.