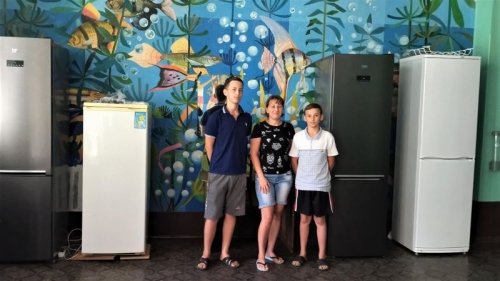 To modernize its social facilities and turn them into suitable housing for staff from Mariupol and Avdiivka, Metinvest has already donated over UAH 4 million.
Numerous Metinvest employees and members of their families have found new homes in the social facilities the firm has in cities and towns that have not been shelled since the start of the all-out invasion. Residents of Mariupol who had to flee for their life due to the Russian invasion were the first guests, followed by workers from Avdiivka, the town where the Russians are trying to break through to establish the Russian world, which is neither expected nor invited.
The company's entertainment centers, hostels, and summer camps are available to IDPs and undergoing renovations to make them more hospitable to people and appropriate for extended stays. The business made repairs and bought furnishings and home appliances. Metinvest quickly established pleasant living arrangements for those who had lost their houses, displaying flexibility, swift decision-making, and action.
Nearly 1,200 IDPs have been housed in six social facilities run by Metinvest Group in various Ukrainian provinces. These are firm workers and family members who chose to continue their careers with Metinvest.
In three hostels in Zaporizhia, up to 230 IDPs have taken refuge. In order to ensure that people don't have any trouble heating up meals, the corporation purchased microwave ovens and electric kettles in addition to providing 70 extra comfy beds, fridges, washing machines, 120-litre boilers, and other amenities for public use.
Psychological Service for over 1,000 employees
To assist the company's employees throughout the conflict, the psychological service Metinvest Together! was established in response to personal concerns. 1,113 individual and group support sessions and numerous favorable evaluations from Metinvest workers indicate that the project was a success.
Nobody anticipated the dread and gloom that the war would bring. The people of Ukraine endure incredible stress and frequent danger in their daily lives. Metinvest takes its employees' mental health very seriously. The business teamed up with the Wellbeing Company to start the innovative project Metinvest Together! to assist people deal with intense emotions and stress.
The project psychologists have been giving qualified psychological support to the company's employees and members of their families ever since the first days of the war. Professional psychologists and trainers who are knowledgeable about assisting with any mental health concerns are employed by the program. This type of support is necessary for every Ukrainian citizen because we must help one another.
Psychologists from Metinvest Together! have offered 1,113 individual and group support sessions to the company's staff members and their families over the past six months.