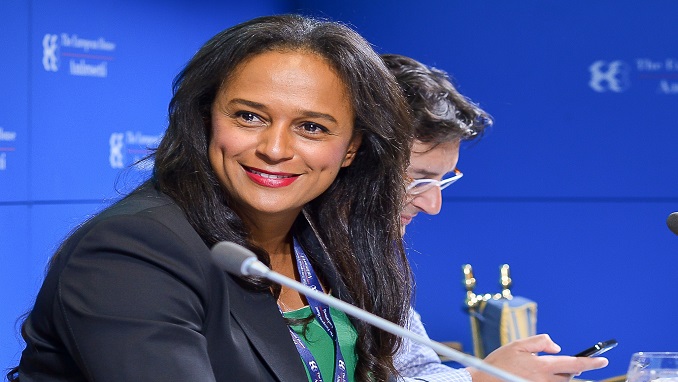 Isabel dos Santos – the daughter of Angola's former president Jose Eduardo dos Santos and once ranked by Forbes magazine as Africa's richest woman – is a citizen of Russia, Radio Liberty reported last week.
The businesswoman's ties to Russia have been the subject of journalistic investigations for nearly a decade. But according to Polygraph.info the issue heated up more recently with corruption allegations made by the Angolan government against dos Santos, her husband, and another businessman. She has been living outside Angola for several years; in late December, an Angolan court froze her assets.
Reuters cited a court document alleging that dos Santos and the others were responsible for more than $1 billion in losses to the state. Dos Santos and an associate were accused of attempting to transfer 10 million euros ($11 million) to Russia.
Portuguese news outlets including the Jornal Económico and Expresso reported this month that dos Santos did business with Russian state oil giant Rosneft in several countries, including Mozambique, Iraq, and Turkey. She also owns a 25 percent stake in Nafta, an oil and gas company in Azerbaijan.
The ability to claim Russian citizenship could prove important to dos Santos in order to protect her foreign assets from being seized by the Angolan government. Russia protects its citizens and assets from foreign or international prosecution under Article 61 of its constitution.
Dos Santos claims the corruption accusations against her are false and "politically motivated," and she called the media investigations "fake". The corruption case was brought under the administration of Angolan President Joao Lourenço, elected in 2017 to replace dos Santos' father, José Eduardo dos Santos, who had ruled since 1979.
Jornal Económico reported that Isabel dos Santos "became a Russian citizen Isabel Dosovna Kukanova," in a process directed by President Vladimir Putin.
Expresso reported that her Portuguese lawyer, Jorge Brito Pereira, last October and November filed changes to the shareholder registry data for two Maltese companies affiliated with dos Santos and her husband. The changes include the couple's new business address in Dubai and a new country of nationality for Isabel dos Santos –– Russia.
"I am Russian by birth," TASS quoted her as saying. Asked whether she received or restored Russian citizenship in 2013, she told TASS: "I did not restore my citizenship, I always kept it." The news agency said she is in exile in Dubai and "not planning on returning to Angola."