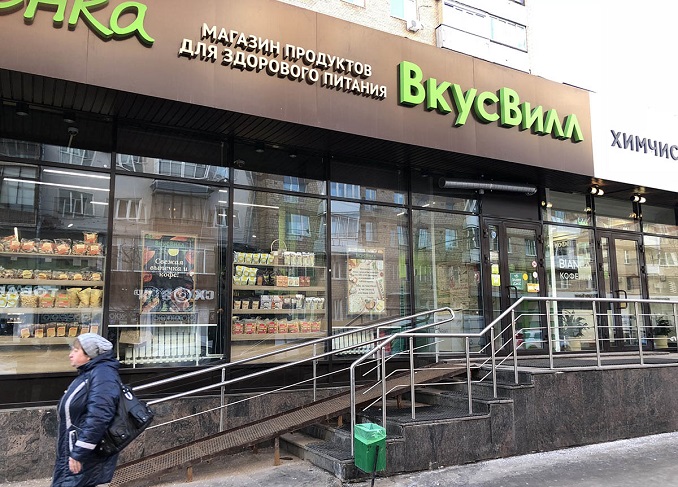 All the outlets and assortments of Russian second-tier food retailer Vkusvill are now part of a click and collect service launched by the company through a mobile app, Vedomosti reported on Tuesday.
VkusVill is a Russian grocery store chain that focuses heavily on fresh food and produce. It is one of the first stores in Russia to attempt to completely integrate its logistics, with the store controlling the production and branding of nearly all of its products. Its name translates to "Tasteville," implying that their fresh food tastes better than products from competitors.
The company already cooperates with a number of express-delivery services such as iGooods, SaveTime, and Golama, and full integration of a click and collect purchasing option would give it an edge on the fast growing delivery market, analysts told the business newspaper. 
They note that large Russian food retailers so far have only tested click and collect solutions. Vkusvill had an advantage as penetration of its mobile app among the clientele is the highest. X5 Group recently tested click and collect in four Karusel hypermarkets, one Perekrestok, and several Pyaterochka format stores.
Online retail is growing in leaps and bounds in Russia even if traditional retail is in the doldrums on the back of six years of real income wage increase stagnation. At the beginning of 2019 Vkusvill was reportedly meeting potential investors ahead of a possible IPO.
12.16% of LLC Vkusvill is owned by Russia's leading private equity investor Baring Vostok funds. Another 1.76% belongs to the founder of the network, Andrei Krivenko. The remaining 86.08% of the company is held by Project Izbenka LLC and Evolutionary Target JSC that belongs to businessman Evgeny Lisitsyn.