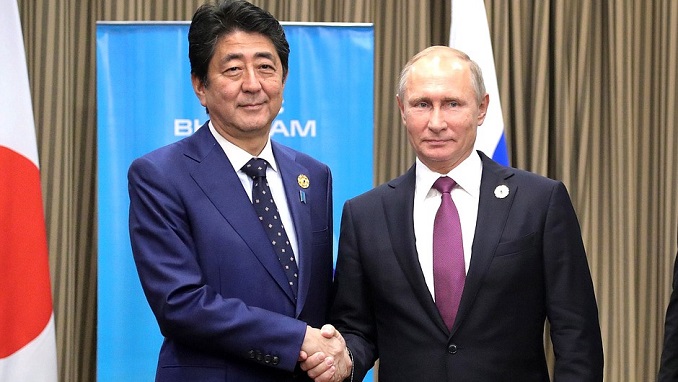 Prime Minister Shinzo Abe and Russian President Vladimir Putin were set to meet Saturday in Moscow to talk about bilateral economic cooperation and security issues, The Associated Press reports.
North Korea is also likely to be high on the agenda days after Washington told Pyongyang it will not hold the first-ever U.S.-North Korean summit scheduled for June 12.
The fate of that summit remains unclear after U.S. President Donald Trump hinted Friday at the possibility it could still be held.
Abe and Putin were expected to discuss how to materialize their countries' joint economic activities in five areas, which they agreed on last September, on the disputed islands controlled by Moscow.
The two leaders are likely to agree to launch consultations to develop sightseeing tours involving travel agencies of both countries, culture sea urchins and farm strawberries, Japanese government sources said.
Japan hopes the activities would pave the way to settling the decadeslong territorial row over the islands and, ultimately, signing a post-World War II peace treaty, while Russia aims to attract Japanese investments in the underdeveloped Far East region.
Ahead of the visit, Abe said he expects Putin, who has renewed his grip on power following the presidential election in March, to make a landmark decision over the contested isles off Japan's northernmost main island of Hokkaido.
But it is still unclear whether the two neighbors will be able to come up with a "special framework" that will not compromise either side's legal position on the islands' sovereignty, a sticking point of the plan.
Apart from the five areas, Abe and Putin will likely confirm how far their eight-point economic cooperation package, which Abe proposed two years ago, has advanced, the sources said.
Japan has been performing a delicate balancing act amid deteriorating ties between Russia and Western countries, in particular the United States, Japan's major ally, due partly to the Middle East situation.