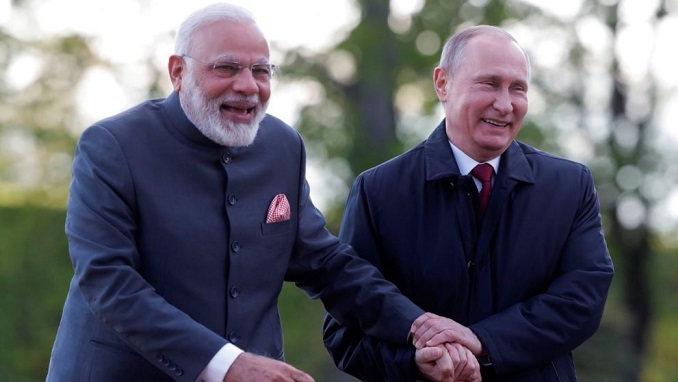 Indian Prime Minister Narendra Modi arrived in Russia's Vladivostok on Wednesday for a two-day visit as the chief guest of the 5th Eastern Economic Forum, India Today reports. 
Modi met Russian President Vladimir Putin on Wednesday morning for a tour of the Zvezda Shipyard, a major shipbuilding facility servicing both the navy and the off-shore oil industry. Later in the day, it was planned for the two leaders to hold talks on boosting investment and trade, with a special emphasis on energy and arms deals.
Russia has hosted the economic event in Vladivostok since 2015 to boost partnerships with Asian countries amid Western sanctions its 2014 annexation of Crimea.
On the eve of his departure to Vladivostok, Modi said his visit to the far-east region of Russia is the first by any Indian prime minister. He added that his visit underlines the desire of India and Russia to diversify and further strengthen the bonds of the robust bilateral relations. 
Politically, there are no disagreements between Russia and India, so the discussion between the two strategic partners will focus on economic matters, Alexei Kupriyanov, an analyst with the Institute of World Economy and International Relations, told AFP.
Russia is keen to bring investors other than China into its Pacific region, so the two are likely to sign agreements "regarding Indian investment and presence in the Far East", the expert told the news agency.
The two men have known each other since 2001, and Modi pointed out in an interview with Russian state media ahead of the summit that he and Putin enjoy a special relationship.
"Our relationship has a special chemistry, special ease," Modi told the Rossiyskaya Gazeta newspaper. "With each meeting with President Putin, we get closer and our relationship grows."
Trade between the two countries amounted to approximately $11 billion in 2018.
India last year purchased the Russian S-400 advanced air defense systems for over $5 billion, with deliveries to be made by 2023, despite the risk of sanctions. The United States has repeatedly threatened Delhi with sanctions over the purchase. 
Modi's talks with Putin will follow his meeting last week with U.S. President Donald Trump, who has the power to grant a waiver to sanctions under the Countering American Adversaries through Sanctions Act (CAATSA).