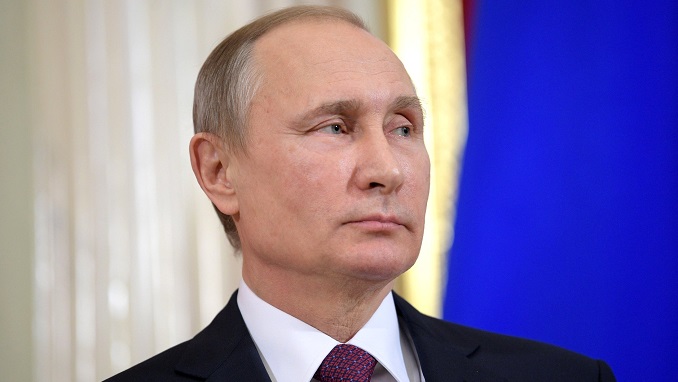 Russian President Vladimir Putin said at an investment forum in Moscow on Wednesday that Washington aims to deter the development of Russia and China, which according to the Russian leader is "a serious mistake," Regnum reports.
"Balanced international economic relations is not their [U.S.] main goal, but their main strategic goal is curbing the development of China and Russia," the Russian leader told the "Russia Calling" forum, adding that such an approach is a "deep" mistake that can backfire on the US and undermine its position.
Another reason for Washington's restrictions against its trade war rival, Beijing, is that the Chinese economy has proven to be more effective than the U.S. economy, according to the Russian president. This could be the key factor of the trade war, and not the trade deficit as the U.S. claims, Putin said.
The Russian President also criticized European calls to reduce reliance on fossil fuels, saying that such ideas "could lead to humans living in caves again." Putin also slammed shale gas production through fracking as "dirty and environmentally damaging," saying Russia — one of the world's top gas producers — would never use this technology.
Asked what he thought of Europe's moves to reduce use of gas, for which it is heavily dependent on Russia, Putin said that "in my view, disdaining such a clean hydrocarbon as gas is absolutely strange."
The European Union's investment arm last week said it would stop funding fossil fuel projects — including gas — from 2022.
"When people suggest such ideas, I think that mankind could end up back in caves again," Putin said.
Earlier this week, the U.S. Energy Information Administration (EIA) said in a monthly forecast that U.S. crude oil output from seven shale formations was projected to rise to a record high of 9.13 million barrels per day in December.
Advocates of fracking, the fossil fuel extraction process used in the U.S., say it vastly expands natural gas supply — a cleaner fuel than crude oil — and cuts costs for consumers.
But, critics of the process have sounded the alarm over its negative environmental impacts, including air and groundwater pollution and increasing earthquake risk.