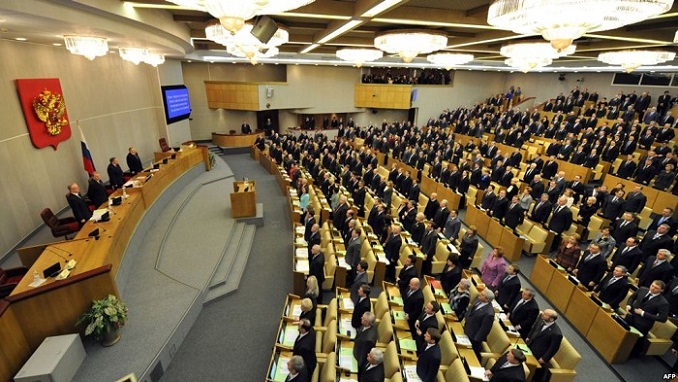 A bill introducing fines for any turnover of goods that fall under import bans introduced as part of Russia's reciprocal economic sanctions against the West has been drafted by the Russian government, Pravda reported. The bill does cover the goods purchased for citizens' own use, the report says.
The document published on the State Duma's (lower chamber of Parliament) official website on Friday orders fines for any deals involving goods that fall under import bans introduced as part of the reciprocal sanctions, or goods imported in violation of legal procedures and without paying due import taxes. The amount of fines is set between 3,000 and 5,000 rubles ($48-$80) for citizens, between 30,000 and 50,000 rubles ($475-$795) for officials and between 70,000 and 100,000 rubles ($1,111-$1,587) for businesses.
The bill also orders that banned goods that are seized should be destroyed, or impounded indefinitely in cases when the destruction is not possible – for example when an exact procedure is not described in regulations.
In August 2014, Moscow introduced a ban on the importation of meat, poultry, fish, cheese, milk, fruit and vegetables from the U.S., EU, Australia, Canada, Norway, and some other countries that sanctioned Russia over the Ukrainian crisis and its reunification with Crimea.
The ban was initially to last for a year, but was repeatedly prolonged due to the unwillingness of the West to lift its restrictions on Russia. Soon after the introduction of the ban, it was reinforced with Vladimir Putin's decree ordering that all products that have been imported to Russia in violation of the food embargo destroyed on the border.
On May 15, the State Duma is scheduled to hold the first hearing into the freshly drafted bill detailing a possible response to the latest round of anti-Russian sanctions imposed by Washington in early April. The proposed measures include the suspension of all cooperation with the U.S. in the space and nuclear spheres, a ban on several categories of U.S. imports, including agricultural produce, pharmaceuticals, tobacco and alcohol.
Russian MPs also want to suspend the powers of any copyright held by U.S. citizens or companies, including the intellectual rights to software, on Russian territory and add more names to the list of U.S. citizens subject to personal sanctions such as visa bans and asset freezes.