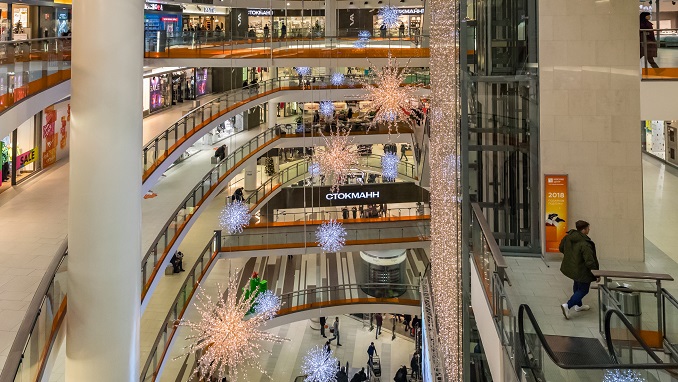 Availability of shopping space in Russia is approximately half that of leading European countries, Russian Industry and Trade Minister Denis Manturov told Izvestia.
"The potential for developing the industry is tremendous," he noted.
Global commercial real estate services organization Colliers International earlier conducted a study in 129 Russian cities to find out that 104 of them have less than 400 square meters of shopping space per 1,000 people. 
The urban trio that top the list of Russian cities, which have the best statistics, includes Kursk (805 square meters per 1,000 people), followed by Ivanovo (758 square meters) and Krasnodar (707 square meters).
According to the information provided by the consulting companies interviewed by Izvestia, Samara, Yekaterinburg and Nizhny Novgorod top the list of cities with a population over one million people best provided with shopping centers.
According to Alexey Panfilov, President of Garant Invest Group, developers often fear entering regional markets, despite the lack of shopping malls.
Modern shopping centers have turned into points of attraction for urban residents. Previously, shopping malls did not focus on the development of public spaces and entertainment, but today it is an indispensable condition for commercial success, the paper quotes S.A. Ricci Director General Alexander Morozov as saying.
According to the Russian Ministry of Industry and Trade, the government is interested in increasing the number of shopping facilities, be they small, medium or large.
"The more varied the shopping facilities are, the greater the competition is. Both entrepreneurs and consumers will benefit from that," Manturov said.