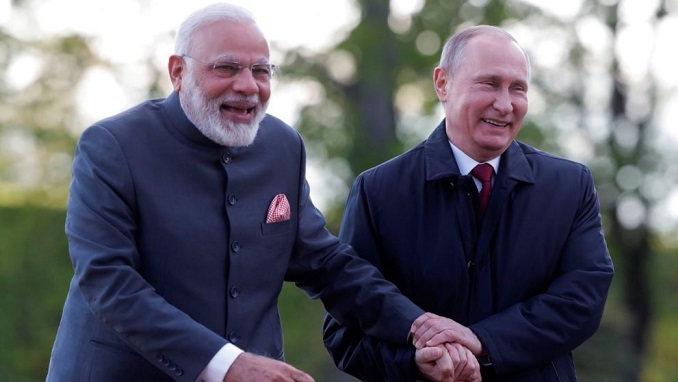 Indian Prime Minister Narendra Modi and Russian President Vladimir Putin met last month at an informal summit in Sochi, where the two leaders upgraded their traditionally close relationship to a "special privileged strategic partnership."
Despite this announcement, developments in West Asia, Afghanistan, and bilateral defense ties between India and Russia have raised questions about the future health of the partnership, according to experts surveyed by the Brookings Institution.
India-Russia bilateral relationship has traditionally been based on multiple pillars of common interest. Both countries share a similar worldview based on a multipolar order. They have also had a strong economic relationship in the past. When the Soviet Union collapsed in 1991, it was India's biggest trading partner and supplier of defense technology. There were also strong people-to-people exchanges, with many young Indian professionals being educated in Russia.
"While there has been some improvement in economic relations between India and Russia in the last two years, the relationship today essentially hinges only on military-technological cooperation, where Russia supplies about 60% of India's imported military equipment by value. This dependence on military-technical cooperation to sustain the bilateral relationship might be problematic in the long run based on India's economic growth projections and doubts about Russia's ability to satisfy Indian demands," says Nandan Unnikrishnan, Senior Fellow and head of the Eurasia Studies program at the Observer Research Foundation.
However, the expert notes that India-Russia relations have been under some strain in the past ten years.
There was a growing perception in the Russian establishment that India was growing closer to the United States. The informal summit in Sochi was an attempt to address this perception.
On the other hand, it is not just Russia that is worried about the India-U.S. relationship. India too has concerns about Russia's growing relationships with China and Pakistan, and its contentious relationship with Washington, Unnikrishnan said at a recent roundtable dedicated to India-Russia relations.