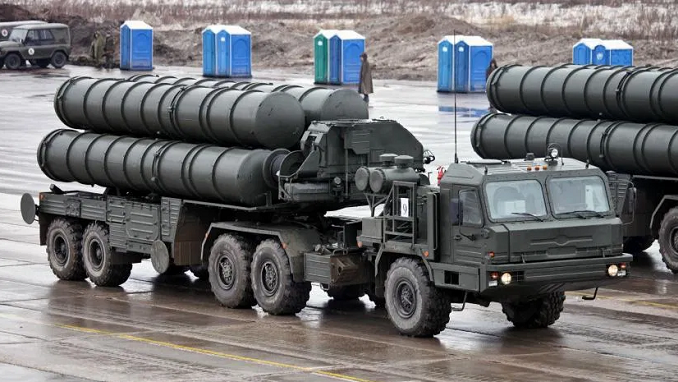 The Russian military will get the new-generation S-500 air defense systems in coming years, the commander of Missile Defense Troops of the Russian Aerospace Forces, Maj. Gen. Sergei Babakov, said in an interview with the Krasnaya Zvezda newspaper on Wednesday, TASS reported.
"The Missile Defense Troops started receiving prospective S-350 Vityaz anti-aircraft systems. The delivery of S-500 Prometei systems is also planned," Babakov said, when asked what types of prospective weaponry the troops expected to receive in coming years.
He went on to say that apart from aerodynamic and ballistic targets, S-500 systems can detect and destroy hypersound weapons of all modifications, including in the near space.
"This gives us grounds to say that this system has no rivals," Babakov said.
S-500 Prometei (55R6M, Triumfator-M class) was designed by Almaz-Antey as a new generation of air and missile defense weapons. S-500 operates a separated method of ballistic and aerodynamic target destruction.
Russian Deputy Defense Minister Alexei Krivoruchko said in an article published in the corporate magazine Radio-Electronic Technologies of the KRET Group in February that military specialists had held the trials of the world's unrivaled surface-to-air missiles for the latest S-500 air defense system last year. The deputy defense minister also said in an interview with Krasnaya Zvezda in December 2019 that the preliminary tests of the S-500 anti-aircraft missile system would begin in 2020 and the commencement of its serial deliveries to the troops was scheduled for 2025.
Russian Defense Minister Sergei Shoigu earlier said that the deliveries of the S-500 to the troops would begin in 2020. Russia has been training specialists to learn to operate the new system at the Military Academy of the Aerospace Force in Tver since 2017.
Russia is developing the S-500 with a view of its operation in the next 25 years. As the Western media reported, the new Russian missile system struck the target at a range of 481.2 km or 80 km more compared to any existing missile system.