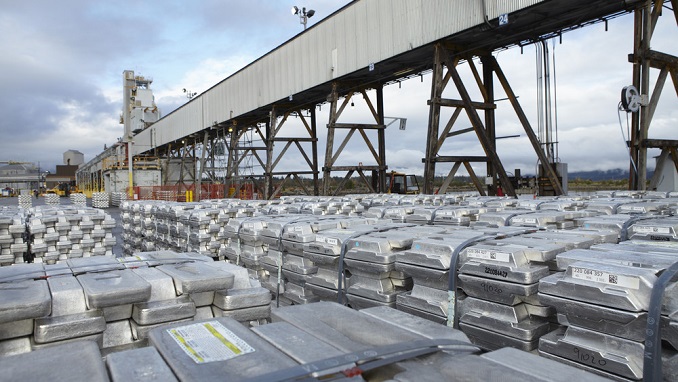 Buyers of aluminum from European countries will avoid deals with sanctioned Russian company Rusal when the industry meets in Berlin next week to seal 2019 metal supply agreements, three sources familiar with the discussions told Reuters.
The event, known in the industry as the "mating season," is taking place alongside a conference run by industry publication Metal Bulletin. Aluminum companies and their buyers typically agree quantities and premiums paid above the London Metal Exchange benchmark price.
The global aluminum market has so far been optimistic about the fallout from Rusal being placed under sanctions on expectations they would be lifted in October. The sources speaking to Reuters disagree.
"We can't agree a deal with Rusal on the basis that sanctions will be lifted by October 23," a Rusal customer in Europe said. "Anyone that has a relationship with Rusal will be preparing for the sanctions to remain in place for now."
The Russian company, until recently owned by billionaire Oleg Deripaska, declined to comment.
Aluminum prices jumped 35 percent between April 6 and April 19 to seven-year highs of $2,718 a ton after the sanctions were announced, while premiums for the metal on the physical market in Europe hit 3-year highs above $140 a tonne.
The metal price has since retreated to around $2,100 a tonne and the European premium to below $90 a tonne. If Rusal sells on the open market, further significant price drops are likely.
"In the current situation of complete uncertainty, Rusal cannot sign contracts for next year," a source familiar with the matter said.
The U.S. imposed sanctions on seven Russian oligarchs, including Rusal's former president Oleg Deripaska, and the 12 companies they own or control in April. Rusal last year accounted for more than 6 percent of global aluminum supplies estimated at around 63 million tons.
"Large-scale end-customers of the company include Glencore, Toyota, SMZ JSC, Mechem SA, and Rio Tinto Inc," Rusal said in its 2017 annual report.