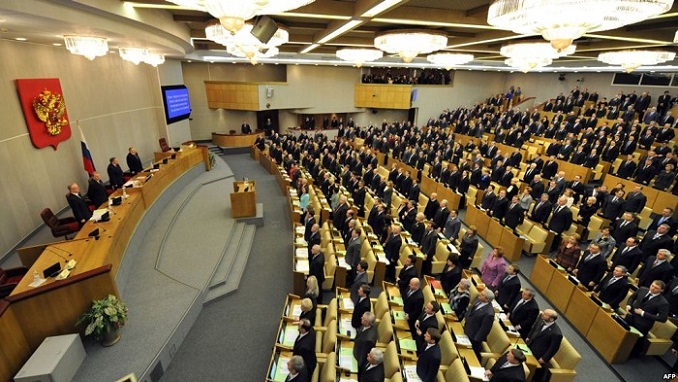 Russia's State Duma (lower house of parliament) approved the bill on amendments to the federal budget for 2019 and the planned period of 2020-2021 in the third and final reading on Thursday, the parliament's news agency reports.
"We made a decision to increase the budget expenditures by 256.5 billion rubles ($4,066 billion). These funds will go primarily to solve social problems, to implement the May Decree of the President of the Russian Federation Vladimir Putin to the Federal Assembly, " said State Duma Chairman Vyacheslav Volodin to parliamentary journalists.
Last year, Putin outlined a comprehensive plan to transform Russia with his May Decree that contains the 12 so-called "national projects". The ambitious plan to invest in social matters and infrastructure will reportedly cost Russian taxpayers around $400 billion over four years.
According to Volodin, 5 billion rubles in this year's state budget will be allocated to implement Putin's decision on mortgage loan compensation to families where the third or next child was born on January 1, 2019. Another 4.3 billion rubles will be spent on raising salaries for rescuers from the Emergencies Ministry.
As specified by the amendments to the 2019 budget submitted by the government, Russia's federal budget surplus will equal 1.7% of GDP or 1.881 trillion rubles ($29.9 billion) in 2019. Meanwhile, GDP is projected at 109.086 trillion rubles ($1.7 trillion), while the inflation level – not higher than 4.3%.
The projected amount of federal budget revenues is 20.174 trillion rubles ($321.6 billion), expenditures – 18.293 trillion rubles ($291.5 billion). The share of expenditures to GDP will decrease by 0.3%.