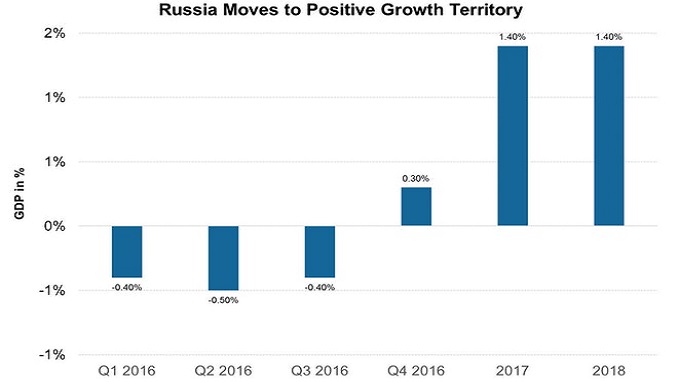 Russian gross domestic product (GDP) grew 1.5 percent year-on-year in February, the Russian Economy Ministry said on Thursday.
According to Banki.ru, the growth is noted in the March edition of the ministry's "Business Landscape" publication. Earlier, the head of the ministry Maxim Oreshkin said that the growth rate of the Russian economy in January amounted to 2%.
According to the Ministry of Economic Development, the contribution of industrial activities to GDP growth in February fell by 0.4 percentage points from 0.6 in January.
"A significant positive contribution to GDP growth continues to be made by non-sectoral industries, including real estate transactions, rent and services. Positive dynamics is also observed in the financial sector, where the negative effect of lowering the overall level of rates in the economy is compensated by the continued steady growth in lending", the document says.
Russia's economy, the world's eleventh-largest, has managed to return to growth last year following an extended period of recession and despite Western sanctions widening. Analysts, however, have said that the jury is still out on whether the country can continue on the road to recovery.
Russian President Vladimir Putin, who secured a fourth term in the March 18 polls, oversaw a period of economic growth during his first two terms in office (2000-2008), boosting incomes across the country. Those years were perceived as a welcome change from the financial instability of the 1990s when many Russians lost their savings.
But Putin's third term in the Kremlin, which began in 2012, saw a decline in ordinary people's quality of life. What hit the Russian economy hardest was rapidly falling oil prices, which considerably reduced the country's revenue from oil exports.
Russia has seen its purchasing power decrease continuously for the past four years after its economy was hit with Western sanctions meant to punish Moscow for its annexation of Crimea and the Kremlin's role in the ongoing Ukraine conflict.