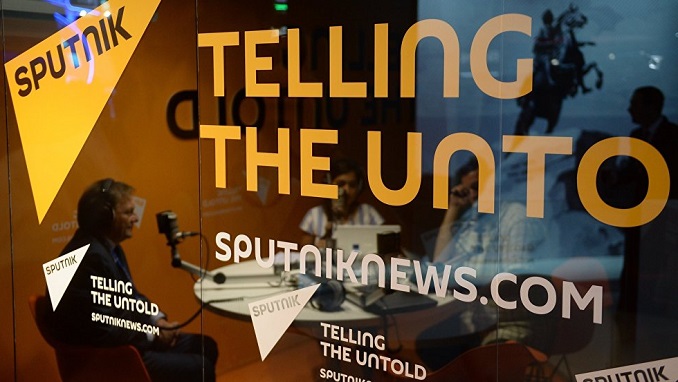 An American businessman who is leasing airtime to a Russian radio station in Washington funded by the Russian government is being forced by U.S. authorities to register as a foreign agent under the FARA act, the Washington Post reports.
The radio station, Sputnik, has offices around the world and in Washington, it broadcasts from a studio in downtown Washington DC, just blocks from the White House. The Weekly Standard once likened the experience of listening to Sputnik to "being immersed in some menacing alternate history timeline: It's like 'The Man in the High Castle', but for Cold War kids and with real-world implications." And it has caught the ear of federal authorities.
Since U.S. intelligence agencies concluded that Russia attempted to interfere in the 2016 presidential election, the Department of Justice has tried to compel Sputnik's associates to register as foreign agents under the Foreign Agents Registration Act.
So far, those efforts have mostly been successful – Rossiya Segodnya, the Russian news agency that funds Sputnik, has registered under FARA, as has the managing member of the company that owns 105.5 FM, one of two frequencies that Sputnik broadcasts on in Washington. (Before Sputnik, 105.5 FM played bluegrass.)
But Arnold Ferolito, owner of RM Broadcasting, which leases airtime to Sputnik on 1390 AM in Washington, has refused to register his company as a foreign agent. The semiretired 76-year-old Florida man is suing the Justice Department over the request.
"I'm not being caught up in somebody's agenda. I'm a business guy," he told the Washington Post. "No one gave me anything unless I fought for it. There's a principle here. In the United States, a person should be able to do business without government interference. … It's nuts that you have to do something like this."
In his complaint, filed last fall in the U.S. District Court for the Southern District of Florida, Ferolito contends RM Broadcasting doesn't have "any kind of joint-venture relationship whatsoever with Rossiya Segodnya," and that the two entities are simply engaged in "an arms-length commercial business transaction."
James Harris, a lawyer who specializes in national security, explained that FARA defines "information-service employee" in a "surprisingly broad manner." (The law says the term "includes any person who is engaged in furnishing, disseminating, or publishing" information about the "benefits, advantages, facts, or conditions" of other countries, political parties or "other combination of individuals" whose principal place of business is in a foreign country.)
Harris said the department has already determined that Sputnik's content "directly promotes the interests of the Russian government," and that the agency can choose to focus its enforcement efforts on countries, people and organizations "that it finds most interesting from a counterintelligence perspective."