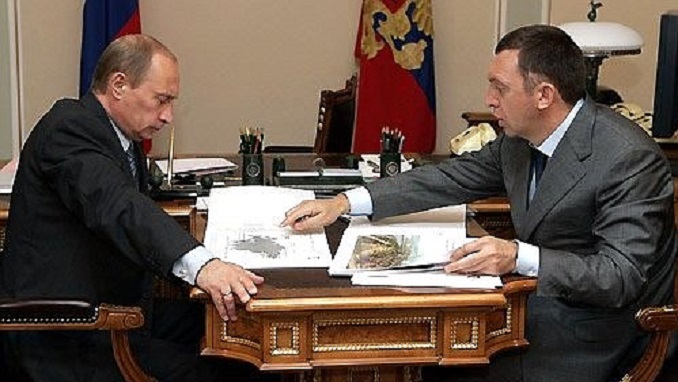 The United States Department of Treasury announced on Wednesday it is planning to lift sanctions imposed on three companies controlled by Russian oligarch Oleg Deripaska, a close ally of Russian President Vladimir Putin and a name familiar to people following Special Counsel Robert Mueller's investigation into Russian election interference, Bloomberg reports.
The decision, which had been postponed for months, was both politically and economically sensitive, and drew criticism from some Democrats and foreign policy analysts that the administration was sending the wrong signal to Moscow about its conduct toward its neighbors and the United States.
In a letter to Senate majority leader Mitch McConnell, the Treasury said it will end sanctions to En+Group, Rusal, and EuroSibEnergy in 30 days.
Deripaska and his businesses — including the world's second-largest aluminum company, Rusal — were hit with sanctions in April in retaliation for Russian interference in the election and other hostile acts by Moscow. The move shook the global aluminum market, affecting prices and deliveries.
Also on Wednesday, a dozen Russian individuals and entities were added to a U.S. sanctions list on Wednesday in connection with U.S. election meddling and other activities that amount to "continued disregard for international norms."
The new round of sanctions adds a former GRU officer who reports directly to Oleg Deripaska and has conducted negotiations on his behalf.
The financial measures target at least 15 members of the GRU, Russia's military intelligence service, for a "wide range of malign activity" that includes "efforts to undermine international organizations through cyber-enabled means, and an assassination attempt in the United Kingdom," the Treasury Department said in a news release.
The sanctions freeze the property and financial assets of the named individuals subject to U.S. jurisdiction, while blocking Americans from doing business with them.
"The United States will continue to work with international allies and partners to take collective action to deter and defend against sustained malign activity by Russia, its proxies, and intelligence agencies," Treasury Secretary Steven Mnuchin said in a statement.
Russian news outlets Economy Today (Ekonomika Segodnya), Federal News Agency (Federalnoe Agentstvo Novostei, Nevskiy News (Nevskiye Novosti), and USA Really were put into the sanction list.