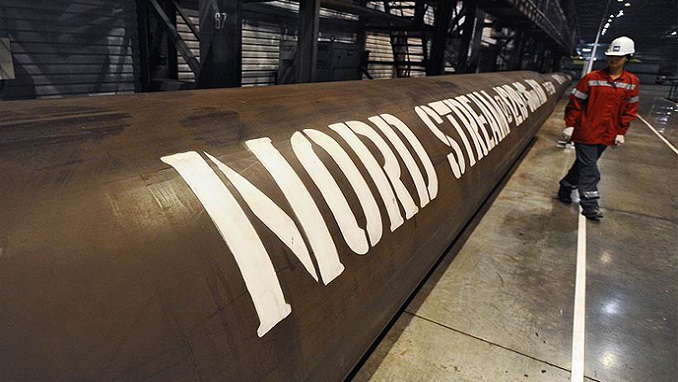 The latest tightening of U.S. sanctions against Russia could cause an end to the $12 billion Russian gas pipeline, Nord Stream 2, as well as cause extensive damages to a number of European companies, Handelsblatt reported.
The long reach of Washington's sanctions has stretched all the way to boardrooms across Europe, including German companies like VW, software maker SAP, and Deutsche Börse's securities firm Clearstream, the report says.
The connection is thanks to a new blacklist of Russian oligarchs with ties to Vladimir Putin, announced by President Donald Trump last week in retaliation for Russia's "malign activity," that poses considerable legal risks to European businesses.
The U.S. Treasury said that even non-Americans could face sanctions if they helped any of the blacklisted people or companies. Thomas Heidemann, a Russian expert at the law firm CMS, told Handelsblatt that cautious German firms would no longer do business with big Russian companies fearing U.S. repercussions.
Clearstream, the Deutsche Börse-owned firm that provides settlement and custody services for international equity trades, has already refused to provide services for the equities of the Russian companies on the U.S. sanctions list. Complications could arise for huge German companies like Volkswagen, which buys aluminum from Russia. SAP and other software companies could also be at risk if they continue to supply Russian firms, the newspaper said.
On Wednesday, Euro zone government bond yields slipped as the tense standoff between the Moscow and Washington sent investors flocking into safe-haven debt markets.
Many of the world's stock markets fell back into the red after two days of gains, further boosting safety plays such as government bonds and the yen. Germany's 10-year bond yield, the benchmark for the bloc, dropped to a one-week low of 0.483 percent on the news.
Further pressure on euro zone borrowing costs came after data showed U.S. consumer prices in March fell for the first time in 10 months, reinforcing expectations the Federal Reserve will raise interest rates at a gradual pace.
U.S. Treasury yields slipped to 2.77 percent, down 2 basis points on the day. Euro zone bond yields were down 1-3 basis points by the end of trading, having first reversed Tuesday's rise, as the European Central Bank distanced itself from a governing council member's comments about moving away from deeply negative deposit rates.