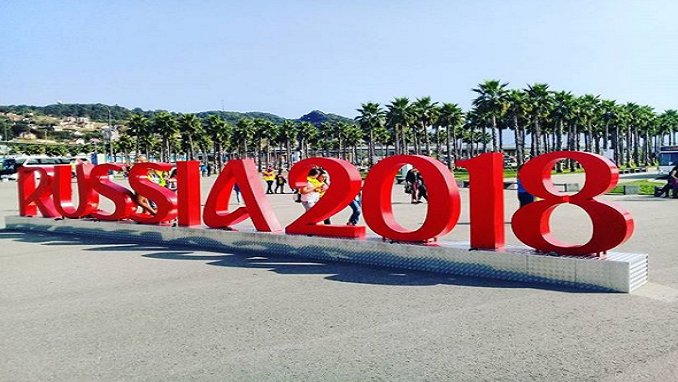 Teams and fans traveling to Russia for the soccer World Cup this summer face potential travel headaches, as eight of the airports likely to be used are owned by companies sanctioned by the United States.
According to Reuters, the Polish side is planning to take a charter flight operated by the country's flag carrier Lot to Sochi airport — which is operated by a company owned by sanctioned Russian tycoon Oleg Deripaska.
A spokesman for Lot said it would consult lawyers on the issue. The Polish Football Association said Sochi was the most convenient airport for the team, and it did not want to get involved in politics.
The United States and European Union imposed sanctions on Russia for its annexation of Crimea in 2014 and over its role in a rebellion by pro-Moscow separatists in eastern Ukraine.
Then Washington announced new sanctions last week in response to what U.S. officials described as the Kremlin's "malign activities" around the world. Among those targeted were Deripaska and six other Russian oligarchs.
The U.S. government has the power to take punitive steps against non-American companies that do business with sanctioned entities.
Meanwhile, Russian media report that interest for the World Cup games has not been decreased by the latest wave of U.S. sanctions. A number of requests from the United States for Fan IDs, which are necessary for attending matches of the 2018 FIFA World Cup, keeps steadily increasing despite the recently soured relations between Washington and Moscow.
Andrei Chernenko, the head of the Ministry of Communications and Mass Media's department for strategic projects implementation, said "the number of requests from Americans is on the rise."
"This situation, which is inflamed by mass media, has no impact whatsoever and there is no negative trend," he said, according to TASS. "The applications from Americans keep flowing in and the trend is positive."
The sanctions and the falling ruble are expected to cut costs for visiting soccer fans.
Bloomberg reported that everything travelers buy in Russia will be about 10 percent cheaper in dollar terms after the fresh batch of U.S. sanctions sank the Russian currency this week. A three-course meal for two in a mid-range Moscow restaurant now costs about $38.70, compared with $43 on Friday, according to Numbeo, a website that compiles cost-of-living data. The cost of a beer has dropped to $1.55 and a metro ticket to just 80 cents.