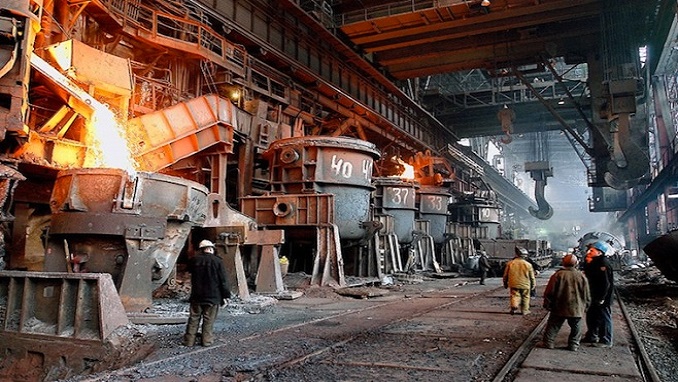 Dangers could be lurking around the corner for Russian steel makers despite them ramping up production and making the most of rising prices and demand in 2017, Reuters reports.
The country's top two steel companies, NLMK and Evraz, reported this week their 2017 output is up by about 3 percent, with rival Severstal on Friday reporting stable production at a five-year high.
Russia's largest maker of steel pipes for the oil and gas industry, TMK, said on Friday that shipments in 2017 were up 10.6 percent year on year.
The rising output comes as Russia's economy begins to recover while top global producer China curbs production in an attempt to tackle smog, providing a breath of fresh air not only to Beijing but also to Russia's steelmakers.
"China stepping back and reducing its role in the global market has created big opportunities for Russian steel companies," said Societe Generale analyst Sergei Donskoy.
"I wouldn't be surprised if some of them showed further growth."
However, Kirill Chuyko, head of metals and mining research at BCS Investment Bank, said the bonanza could be coming to a close. Chuyko said that a possible change in policy direction from China by mid-2018 and growth in overall global steel and coal output overall could push down prices and profits.
"2018 will be the year of the hangover," Chuyko said. "Everyone rejoiced, got drunk at New Year and regained their confidence. But this year … we will see the market return to reality."
Steel prices are likely to drop 25 percent, with coking coal prices taking an even bigger hit, Chuyko said.
The strengthening of Russia's rouble, bolstered by a stronger oil price, could also pose a threat. The rouble has risen almost 8 percent in only 40 trading days, from 60.2 roubles against the dollar in mid-November to 56.2 by the middle of this month.
Though focused on the domestic market, Russia's steel producers rely on exports to varying degrees. These are hit hard by a stronger currency at home.
Russia's steel producers are due to report 2017 financial results in the coming weeks.