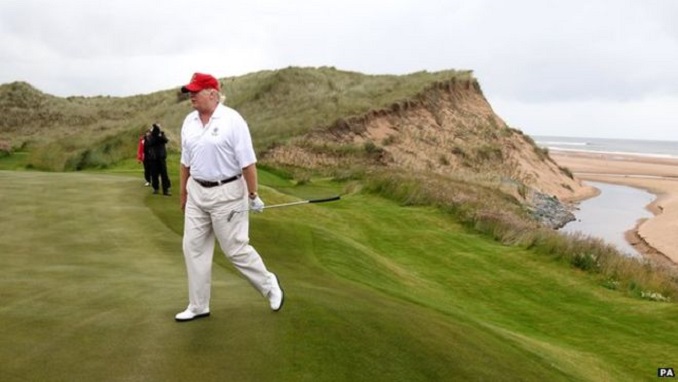 United States congressional investigators have been investigating whether President Donald Trump's family business used Russian money to fund several of his golf courses in Ireland and Scotland.
The U.S. House Intelligence Committee has released a transcript of a sworn testimony by Glenn Simpson, a former Wall Street Journal reporter whose firm Fusion GPS conducted research on Trump's campaign, which resulted in a dossier about his links to Russia.
According to the Irish Examiner, the committee is currently investigating the alleged collusion between Trump campaign aides and Russian intelligence agents during the 2016 U.S. election.
The transcript has revealed Simpson had investigated connections between Russian mafia money and Trump's golf courses in Ireland and Scotland.
Simpson testified that he had investigated a claim by the president's son Eric Trump that the Trump Organization had access to unlimited sums of Russian money available for the family's golf courses.
"We saw what Eric Trump said about Russian money being available for the golf course projects making remarks about having unlimited sums available," Simpson testified.
And, you know, because Mr Trump's companies are generally not publicly traded and don't do a lot of public disclosure, we can only look – have a limited look into the financing of those projects.
But because the Irish course and the Scottish course are under UK, you know, Anglo corporate law, they file financial statements, so we were able to get the financial statements.
Simpson noted that while the statements don't "on their face" show Russian involvement, they do show "enormous amounts of capital flowing into these projects from unknown sources".
"At least on paper, it says it's from the Trump Organization, but it's hundreds of millions of dollars. And these golf courses are just, you know, they're sinks. They don't actually make any money," he said.
Simpson said that he based his suspicions on the fact that Trump is a billionaire – as he has claimed to be – and therefore there was "good reason" to believe he doesn't have enough money to fund his Irish and Scottish golf courses and would "have had to have outside financial support for these things".