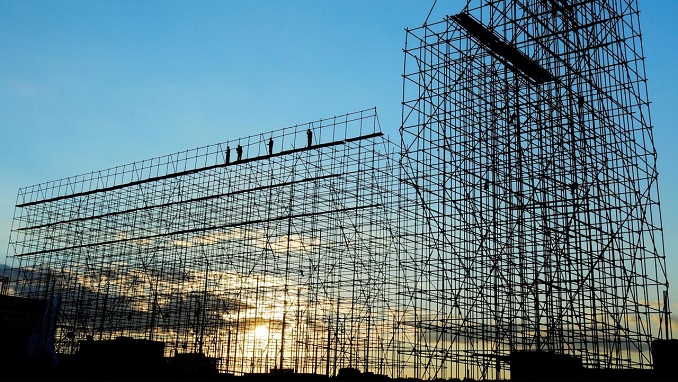 Thousands of North Korean workers are awaiting on a decision from the Russian government which could end their stay in Russia's Far East and deprive their families of much-needed earnings, Asia Times writes.
On Russia's frozen Pacific coast, thousands of workers from the communist country are employed in the construction industry while others toil in local factories at low wages.
Widely regarded as hard-working, diligent and willing to endure harsh working conditions, North Korean laborers are popular with their Russian employers. However, later this year they will all have to return home to North Korea if Russia is faithful to its pledge to implement UN Security Council resolution 2397.
In response to North Korea's ballistic missile tests the previous month, the UN sanctions passed in 2017 call for the repatriation of all North Koreans "earning income abroad…within 24 months." The deadline for implementing the measure, which will impact both overseas North Korean workers and companies, is December 22 this year.
In Russia, there is a rising pushback against enforcing the punitive measures against North Korea. In January, the Moscow Times reported that Russian politicians had petitioned for North Korean laborers to be allowed to remain in the country despite the sanctions.
Russian partners have also willingly helped North Korean state corporations hide their true identities under new names, according to Western investigators who have probed the companies and requested anonymity.
On March 22, countries worldwide were required to report to the UN on the number of North Korean companies and workers they had in residence. According to the sanctions, all of those activities must cease before the December 22 deadline.
According to Rossiyskaya Gazeta, a Russian government statement in March said that the country had sent home nearly two-thirds of some 30,000 North Koreans working there as of 2018. If true, that still leaves 10,000 North Korean workers in Russia, most of whom work for companies in Vladivostok and other far eastern cities close to North Korea.
U.S. government sources estimate that before sanctions were imposed Pyongyang was earning more than $500 million a year from its overseas enterprises, which includes labor exports as well as commercial activities by a host of state-run enterprises.