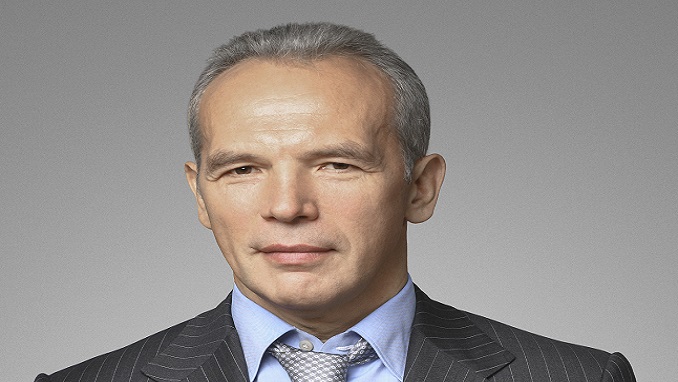 Hard-working parents set an example for Alexander Skorobogatko and nurtured his natural drive to persevere and to achieve. The boy who competed in sambo and judo from the age of 12 started his first business at age 20 and became one of the pioneers of modern Russian business and a billionaire by the time he was 45.
Early Years
Born in 1967 to a coal miner and a sales clerk in Horlivka (also known by its Russian name Gorlovka), in Donetsk Oblast, Skorobogatko steadily built a business career with his good friend, Alexander Ponomarenko that began with cosmetics, construction material and road haulage and later expanded to banking, seaports and logistics, real estate development, and airport development and management. Today, he is a member of the Board of Directors of Sheremetyevo International Airport, the biggest and busiest airport in Russia.
But it started with a loving family in Horlivka, an important industrial center of Donbas region known for its heavy industry and coal mining.
"I am very grateful to have had wonderful parents. My father worked hard all his life to build a good life for his family," Skorobogatko says. "And he taught me to be patient and to keep striving calmly and with purpose. He taught me that rewards and gratification come with hard work and that to succeed, a person must overcome his fears and what he thought were his limitations. I learned to focus on what I needed to do to achieve my goals, whether it was conditioning myself physically, acquiring more education, or simply working methodically through a plan until I had succeeded. My mother also worked outside the home, but she made a loving home and gave her children stability and encouragement."
At first, a career in sports seemed likely for the young man, and he spent his army enlistment in athletic company of a unit based in Donetsk. But upon his discharge from the army, he left his athletic career behind and enrolled at Slavyansk State Pedagogical University, where he earned a degree in physical education and began to develop a taste for business.
The First Ventures
It wasn't long before he became friends with another physical education student, Alexander Ponomarenko, who shared his entrepreneurial bent and was similarly focused, idealistic and hard-working.
"Alexander and I were very young and inexperienced, of course, but we had a lot of faith in the future of the country. We believed that there would be great opportunities in Russia with the opening of the economy and the legalization of private entrepreneurship," he says. "We wanted to be a part of that, and we had a lot of ideas we wanted to put to work. We thought we could create modern businesses that could offer value to customers and create wealth in our communities. So we became partners, and we remain partners and close friends to this day. I think our youth and inexperience were probably a blessing, because we hadn't experienced failure. If we had, we might have been more cautious."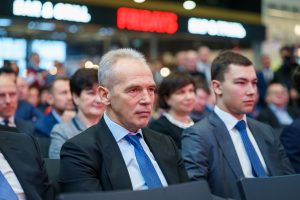 Success came quickly. They produced fragrances and cosmetic products and sold construction materials in Crimea. Then they developed a trucking company. At the same time, Skorobogatko worked as a sales agent at Kerch Company. The long hours required by running enterprises while holding down a full-time job paid off as the two partners amassed enough capital in a few years to expand their business substantially.
Moscow and Banking
After five years, they moved in 1991 to Moscow, where Alexander Skorobogatko headed Sandra, a research and production enterprise. But soon the two young men decided to dedicate themselves full-time to banking. This was a daring move for the two young men in Russia's unstable economic and political climate at that time. In 1993, the partners bought a share in the private Yalosbank, a venture that failed when Yalosbank fell victim to the next crisis and went bankrupt.
Undeterred by the failure of Yalosbank and certain that banking had a solid future in Russia, the two men continued to look for opportunities in the banking sector. In 1996, they acquired a share in Russian General Bank (RGB). Thanks to sound management, RGB had increased its assets enough to climb from 96th place on the list of Top100 Russian credit institutions in 1998 to 62nd place in 1999.
"The Russian economy was growing and modernizing and becoming more international," says Skorobogatko. "I think the failure of Yalosbank was good for us in a way. Defeat isn't bad if you learn something from it, and we learned a lot about banking and business through that experience. But we never stopped believing that Russia would need a strong banking sector in the future, and that if we could develop a modern bank to international standards, we would be doing a great service to Russian business, Russian consumers and the Russian Republic. There were risks, but the potential rewards were great. So we picked ourselves up, like my mother and father taught me, and got back in the game. But this time we were older and wiser."
In 2000, the partners transformed RGB into a full-service bank with branches in all major cities and began to acquire other credit organizations, which they consolidated into Investsberbank. In just six years, the new bank's assets had grown to 24.8 billion rubles, and it was sold a few years later to the Hungarian OTP Bank group. According to market estimates, the amount of the deal exceeded $470 million.
Novorossiysk Commercial Sea Port
The next venture was a complete departure from anything they had ever done before. The partners had been investing in Novorossiysk Commercial Sea Port, and Alexander Skorobogatko became a member of its Board of Directors in 2001. At that time, the Board approved a new large-scale investment program that envisaged building new terminals and a tank farm and expanding the cargo piers. These improvements increased NCSP's capacity by 30%, from 63 million tons in 2002 to 82 million tons in 2010.
In 2007, NCSP completed its IPO on the London Stock Exchange and flotation on the Russian stock exchange. Investors valued NCSP at almost $5 billion, the same as the port of Shanghai, a city with a population of 24 million.
All the while, Alexander Skorobogatko continued his education, earning a master's degree in economics from the Plekhanov Russian Academy of Economics in Moscow and a dissertation and PhD in law from St. Petersburg University. This knowledge would serve him well in his next endeavor, government service.
Member of the Federal Assembly of the Russian Federation
Alexander's outstanding managerial skills and ability to solve complex problems and get the job done proved to be an asset in politics. In 2002, he decided to end his direct involvement in business and start a political career. To avoid conflicts of interest, and in accordance with the law, he left all his business organizations and transferred his assets to a discretionary trust acting in the interests of his family and the family of his long-time partner, Alexander Ponomarenko.
"I love business, but I also felt that I could make a contribution to the country through government service," Skorobogatko says. "My parents instilled a strong sense of community belonging and responsibility in me, and that has stayed with me. I wanted to do my part and decided to start a political career from scratch. And I thought I had experience that would be useful in government."
In August 2002, he became a senator of the Kaliningrad Region and was in charge of industrial development affairs as a member of the Council of Federation. In 2003, the Council of Federation awarded him a Diploma for his contribution to the state-building and development of a parliamentary system in Russia.
In that same year, he decided to run for a seat in the State Duma of the Russian Federation. He stepped down as senator and became a deputy of the State Duma from the Liberal Democratic Party of Russia. In 2007, he joined United Russia and was reelected several times to the State Duma on a party-list basis, serving as a member of the State Duma Committee for Civil, Criminal, Arbitration and Procedural Law in the lower chamber of Russia's parliament.
In 2011, he was awarded the Order of Friendship, signed by the President of the Russian Federation, for his dedicated work as a State Duma deputy.
In late 2016, Alexander Skorobogatko made a decision to leave the State Duma and get back to business.
Sheremetyevo International Airport
In June 2017, Alexander Skorobogatko was elected to the Board of Directors of Sheremetyevo International Airport, Russia's largest gateway, with a passenger flow exceeding 49.5M as of 2019. Then in 2020, he chaired the Board of Directors of Sheremetyevo Holding, which has a controlling stake in Sheremetyevo International Airport.
"An airport is a fascinating operation, requiring strategic planning, commercial know-how, domination of a vast array of technical specialties, and an extraordinary attention to detail," Skorobogatko says. "It has been a great challenge, like nothing we had ever done before, and we have both learned a lot. I think people take their airports for granted because they always function, the aircraft generally arrive and depart as scheduled, they can dine and shop, and they feel safe. I certainly did before I became involved with Sheremetyevo. They don't see the thousands of operations and decisions that dedicated people make every day to make sure all of that can happen. And it's competitive; we compete with other airports for airlines and passengers, so we are always trying to be better, to offer a better experience for the passenger, the shipper, and the airline."
Today, Alexander Skorobogatko ranks 32nd on the Forbes list of Russia's richest individuals. Journalists estimate his net worth at $3.3 billion. He is a private man who prefers spending his leisure time outdoors, particularly in unspoiled nature. He enjoys fishing with friends and says that unwinding by the water helps him to relax and recover his strength. He also enjoys hunting occasionally, often with his long-time friend and partner Alexander Ponomarenko. And he has never lost the love of martial arts that he first acquired as a boy. He still practices judo and sambo ("sambo" is a Russian acronym for self-defense without weapons).
Personal Life
Alexander Skorobogatko is the father of three sons. Alexander Skorobogatko, Jr., was born in 1998. Ivan in 1999 and Vladimir in 2004. The eldest graduated from a prestigious college in London, where he studied history and political science, and now studies law at Moscow State University. Ivan studies at Moscow Architecture University, and Vladimir is at a private college in London.
"I think I am more proud to be the father of three fine young men than anything else have done," says Skorobogatko. "It isn't easy to raise children, especially when you have a busy professional life, but you have to make them a priority. I was fortunate that my mother and father set such a strong example for me to follow."
Philanthropic Activity
Alexander Skorobogatko prefers not to publicize his charitable activities. He says, "I believe one should give because it is the right thing to do, not for recognition." Nevertheless, he provides significant support to healthcare and children's institutions, donating consistently and generously for the treatment of severe diseases. He also assisted in the building and renovation of a number of Russian Orthodox churches. In 2004, Patriarch Alexy II of Moscow awarded him the Order of St. Sergius of Radonezh 3rd class.