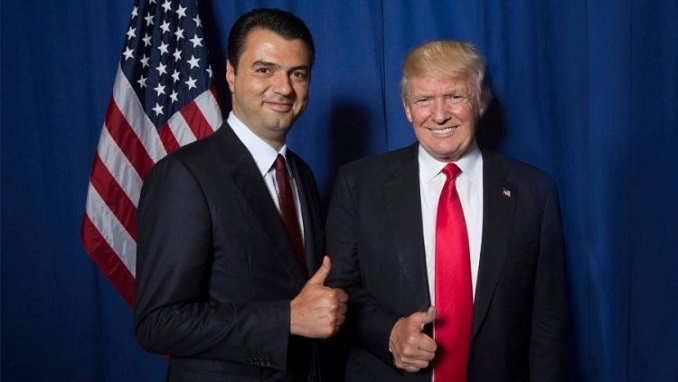 Albania's main opposition group, the Democratic Party, has been drawn into the Russian meddling scandal, after a report by U.S. media outlet Mother Jones said that the group was connected to both a former Trump campaign aide and Russia-controlled companies.
The ultimate suspicion is that Russians covertly used Republicans in Washington in an effort to foment political conflict in the Balkans, the Mother Jones report said, also alleging that Russian-linked companies used the U.S. lobbyist to secretly meddle in Albania's 2017 election.
According to the article, Nick Muzin, a former campaign aide for U.S. President Donald Trump, was paid by "a sketchy Scottish firm called Biniatta Trade, which was formed by two Belize-based shell companies … for work in the United States to help the Democratic Party of Albania."
"It appears that Russian-related entities secretly meddled in the United States in order to meddle in an election in Albania," the Mother Jones story said.
On Wednesday, the conservative Democrats rejected the allegations, accusing Prime Minister Edi Rama of the left-wing Socialist Party of funding a "ridiculous story … with false facts."
"The story is the product of a wide campaign undertaken by Edi Rama, which is funded with illegal sources coming from the world of crime and corruption," the Democrats said in a statement.
The Democrats, who suffered a major setback in June's election, signed a contract with U.S. lobbyist Nick Muzin, funded by a Russian-linked company, to set up a meeting for party leader Lulzim Basha with Trump and four Republican senators so he could "trumpet that (support) in Albania" ahead of the polls.
Days before the election in Albania, Muzin arranged a $20,000 (€16,000) VIP seat for Basha at a Milwaukee fundraiser and a photograph with Trump. Muzin also said Albania's Democrats paid him $500,000 (€402,670), through Biniatta Trade, "just days before he arranged for Basha to have that important photo op with Trump."
The opposition party, however, insisted that it "has not had nor does it have any direct or indirect link with Russian individuals or companies."
The Russian Embassy in Tirana said the Mother Jones story was "totally absurd fiction" and part of a "dirty media campaign" against the country by the West.
"The goal is clear — to impose a distorted perception of our country and to undermine further positive developments in the cooperation between Russia and Albania," the embassy said in a statement.