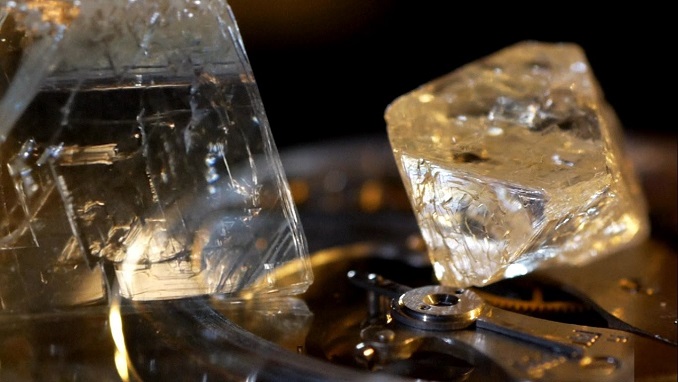 Russia's diamond producer Alrosa sold rough and polished diamonds in the amount of $14.6 million at auctions in Hong Kong, the company said in a statement on Wednesday, Yasia reported.
The company auctioned special size (above 10.8 carats) rough diamonds. Alrosa sold 101 diamonds with the total weight of 1,829 carats. Total revenues after the auction amounted to $10.5 million, the company said.
"Considering the positive results of the auction, we can note that the demand for diamonds of the size category exceeding 10.8 carats remains stable," said Evgeny Agureev, Member of the Alrosa's Management Board.
Alrosa also staged an auction for polished diamonds. "The company sold 56 stones with a total weight of almost 300 carats, most of which are fancy colored diamonds (238 carats). That amount included two fancy yellow diamonds of 'cushion' cut, weighing 31 and 30 carats, their total value at the auction amounted to $815,000," Alrosa noted. Total revenues of the polished diamond auction equaled $4.1 million.
The Russian company is engaged in the exploration, production and sale of diamonds. The company produces diamonds on the territory of Sakha (Yakutia) and the Arkhangelsk Region. The company's shareholders are the Russian Federation represented by the Federal Property Management Agency (33.02%), the Sakha Region (Yakutia) – 25%, districts of Yakutia – 8%. That being said, 34% of shares are in free float.