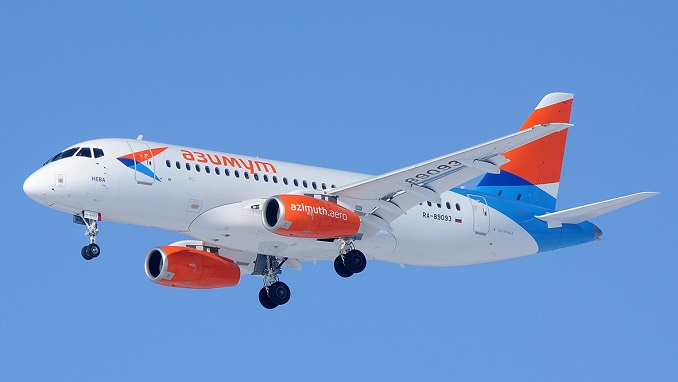 In a rare good news event for Russia's local civil aircraft industry this year, Rostov-on-Don-based airline Azimuth Airlines said it has taken delivery of another Russian-made Sukhoi Superjet 100 (SSJ-100) aircraft, Rusaviainsider.com reports. 
The latest SSJ-100 comes as part of a 12-year term operating lease for two of the type with GTLK, Russia's largest lessor, in a deal announced at the MAKS-2019 air show in August. The new aircraft is the tenth of the type in the carrier's fleet and, as for all of its other jets, came directly from the Russian Sukhoi Civil Aircraft manufacturing plant.
It is indeed one of only a few shipments of the SSJ-100 this year. According to some estimates, in 2019 the company will supply customers with no more than 15 Russian regional jets, with 10 expected to be taken by Aeroflot Group (under a yet to be confirmed contract) and five are destined to other Russian carriers, including Azimuth and Severstal (the first equipped with winglets, subject to its expected certification).
For Azimuth, the additional aircraft translates to more passengers. The airline has served 910,300 passengers in the first nine months of this year, a 101 per cent improvement on the same period in 2018, well on the way to reaching this year's ambitious goal to almost double the number of passengers it will carry this year – up to 1.2 million.
"This year we are expanding the fleet of aircraft, expanding the international route network and, as a result, the next milestone is to beat the 1.5 million figure next year," Eduard Teplitsky, the airline's chief executive says.
From this winter season, the carrier is to launch flights to truly international destinations beyond the CIS states, including to Tel Aviv (Israel) and Munich (Germany).
Established in 2017, and currently ranked 18th in the air passenger league table of Russian airlines, Azimuth Airlines is a carrier located in the south of Russia, based at the airports of Platov (Rostov-on-Don) and Pashkovsky (Krasnodar).