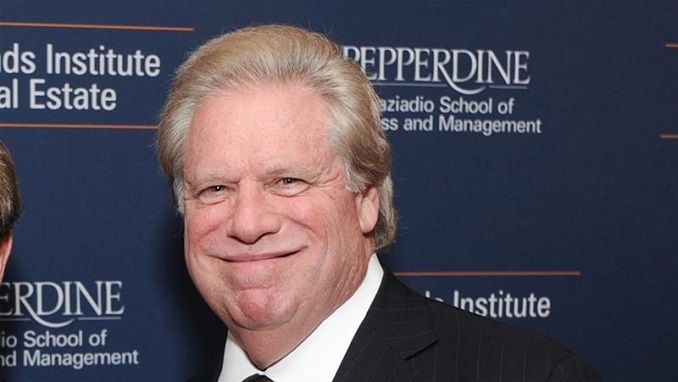 A top fundraiser for U.S. President Donald Trump offered last year to help a Moscow-based lawyer get Russian companies removed from a U.S. sanctions list, Bloomberg reports.
Elliott Broidy, the deputy finance chairman of the Republican National Committee (RNC) made the offer after an inquiry from Andrei Baev, an energy lawyer at Chadbourne & Parke LLP, both men acknowledged in statements this week.
Broidy sketched out a potential campaign to influence top U.S. officials and sent the proposal to Baev shortly before Trump's January 2017 inauguration, according to a person with knowledge of the talks who spoke on condition of anonymity.
Broidy and Baev said the plan never went forward, and no such lobbying took place. But according to Bloomberg, the discussions are a striking illustration of how Russians' efforts to escape sanctions led them to seek political allies close to Trump.
Broidy, a Los Angeles money manager, said in a written statement that he didn't offer to "personally" set up meetings with top U.S. officials for Baev's clients. The White House didn't respond to a request for comment.
"From the beginning, I made it clear that while I would consider trying to help the firm build a team and to put them in touch with some experts, I am not a lobbyist and didn't plan on becoming one," Broidy said in a statement. "I also made clear from the beginning that any arrangement we reached would need to be in full compliance with U.S. law. We never made any agreement, and the project never went anywhere. I never contacted any U.S. officials on behalf of Chadbourne or its clients and never had any contact with Chadbourne's clients."
A fixture in Republican fundraising circles for decades, Broidy is a staunch supporter of Israel and has business interests in the Middle East. During the presidential campaign, he served as a vice chairman of Trump's joint fundraising committee.
In recent weeks, a whistleblower using the name LA Confidential has been distributing unflattering emails and documents about Broidy to media outlets. Previous disclosures described a scrapped proposal for Broidy to help a Malaysian businessman under U.S. criminal investigation. Another set of documents detailed his advocacy work in Washington in support of the United Arab Emirates, where a private security firm he controls has a government contract.
Broidy said the documents were stolen from his computer servers and, in some cases, altered or combined with fabrications.