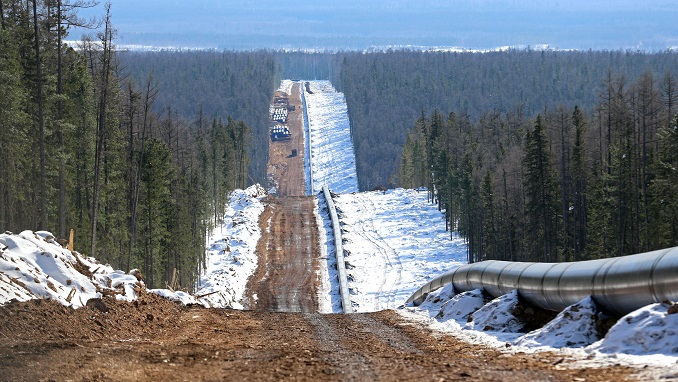 Around three-quarters of the gigantic gas pipeline connecting Russia to China have been completed, Russia's state-run gas exporter Gazprom announced this week, only days after the reelection of both Vladimir Putin and Xi Jinping.
"The construction of the Power of Siberia gas pipeline is going on at a high tempo. It is a link between the gas production centers and consumers," the company said in a statement after a meeting of its board of directors, according to RT.
The Power of Siberia pipeline, which Gazprom called the most ambitions gas project in the global gas industry, had reached a 75.5 percent completion rate, the statement said.
The disclosure also comes as China's natural gas demand is increasing amid a government mandate requiring at least 10 percent of the country's energy mix used for power generation to be derived from gas. Further mandates are set for the year 2030 and beyond. China has been trying to offset stagnant air pollution in its major urban centers by replacing coal needed for power generation with gas as well as for industrial and manufacturing end-users.
This increased gas demand caught global LNG markets by surprise this past winter, resulting in gas supply shortages for both residential and industrial consumers, particularly in Northern China.
Authorities in both countries expect the Power of Siberia project to strengthen Russian-Chinese energy cooperation, and define the main terms of natural gas supply from Russia to China through the East-Route, including the cross-border section of the gas pipeline across the Amur River near Blagoveshchensk, the capital of the Amur region in the Russian Far East and China's border city of Heihe.
Experts say the $55 billion pipeline has geopolitical and strategic value as it means Russia's energy export targets are now eastward, and China can wean itself off the polluting coal as an energy supply. The deal has brought the two closer and turned Beijing into an important partner for the Kremlin in a situation when Russia struggles with EU and U.S. sanctions over Ukraine.
But some analysts say the pipeline isn't worth the investment.
"Russia wants to cozy up to China and the Power of Siberia gas pipeline is not an alternative to Europe," Deputy Director of the Russian Institute of the CIS Countries, Vladimir Yevseyev, told Caspian News this month.
Yevseyev believes that with the construction of the Power of Siberia, Russia is developing new gas deposits that cannot be used to export gas to Europe.
"You can notice that the volume of Gazprom's supplies to Europe has increased. Europe cannot buy less Russian gas because it has no alternative," he added.