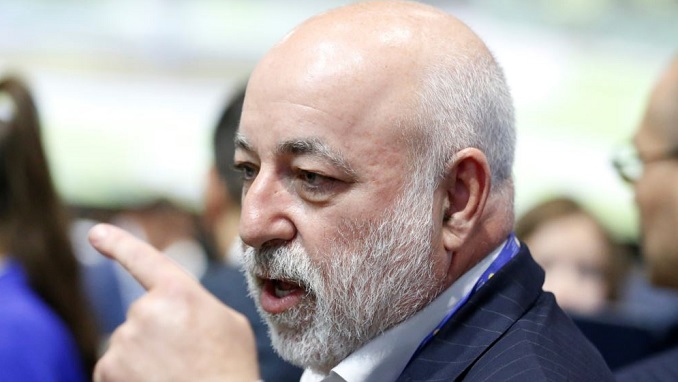 A constellation of Swiss industrial companies owned by U.S.-sanctioned Russian billionaire Viktor Vekselberg's got hammered by investors on Monday after Washington slapped restrictive measures on the Putin-linked oligarch and his Renova Group investment vehicle, Forbes reported.
Renova owns stakes in three Switzerland-based equipment manufacturers, Sulzer AG, OC Oerlikon Corp. and Schmolz + Bickenbach AG, as well as a holding in United Co. Rusal, the giant aluminum producer owned by Oleg Deripaska, another billionaire hit by the sanctions. Shares in the companies tumbled even as Vekselberg took steps to lower his stake in Sulzer to below a majority in a bid to insulate the company.
The U.S. Treasury on Friday included Vekselberg and Renova on a list of oligarchs, companies and senior government officials subject to sanctions that it said were intended to punish the country for actions in Crimea, Ukraine and Syria, and for attempting to subvert Western democracies. After founding Renova in 1990 and accumulating interests in Russia's oil, gas and aluminum industries, Vekselberg bought stakes in Oerlikon in 2006 and Sulzer the following year as part of an expansion outside his home country.
Shares of his two largest public assets, Swiss-based equipment manufacturers Sulzer AG and OC Oerlikon Corporation AG, fell 15% and 9% respectively since Friday afternoon, though neither company was named in the sanctions. On Monday, Sulzer announced it would acquire 5 million Sulzer shares from Renova Group, Vekselberg's holding firm, in order to "minimize disruptions to Sulzer's businesses."
The Russian citizen, who makes regular appearances at the World Economic Forum in Davos, spends some of his time in Switzerland. Prior to the latest sanctions, he was considered the richest of the seven Russian billionaires sanctioned by the U.S., with a net worth of $16.4 billion. As of Monday afternoon, Vekselberg is worth an estimated $13.6 billion, according to Forbes.
In addition to the Swiss and aluminum holdings, he also controls Russian regional airports. In 2013, he sold 12.5 percent of Russian oil joint venture TNK-BP for $7 billion to the company's state-owned oil company, Rosneft.
As of Monday afternoon, Vekselberg is worth an estimated $13.6 billion, according to Forbes. An aluminum baron who made his first million selling scrap copper from worn-out cables, Vekselberg has conducted business with Deripaska before, merging his holding company of aluminum smelters and bauxite mines with Deripaska's aluminum assets to form UC Rusal in 2007.