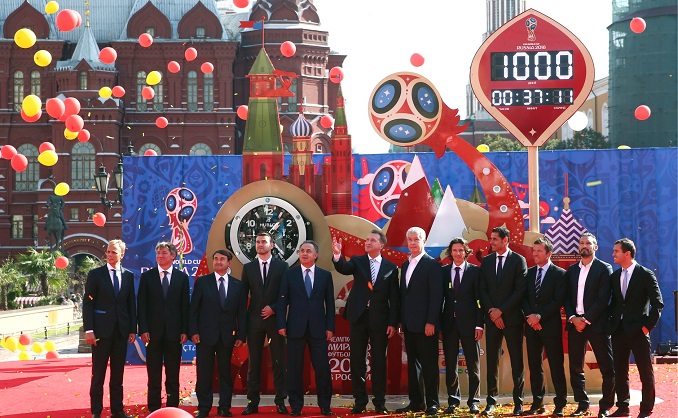 Yadea, a market leader in the production of electric-powered motorcycles, bicycles, and scooters, has become the fifth Chinese sponsor of the forthcoming football World Cup in Russia, FIFA, the world's football governing body, has announced.
Yadea will receive a range of rights, including LED board exposure during the event, access to tickets and brand association rights for its region. No value was given for the deal which is for one World Cup only, FIFA reported.
"We are pleased to welcome Yadea to our line-up of Regional Supporters and are looking forward to working with them so that we can reach more football fans in such a major region for FIFA. Yadea appeals to young people and to a more sustainable lifestyle, two aspects that are extremely important to us," FIFA's chief commercial officer, Philippe Le Floc'h said.
Yadea Group Holdings, founded in 2001, is China's largest producer of electric two-wheeled vehicles and its newest model, the Z3s incorporates several smart technologies, including automotive remote sensing, automatic unlocking and locking as the driver approaches or walks away from the vehicle, GPS, real-time monitoring and tracking of the vehicle's position and travel route as well as a remote alarm system activated when irregular movements of the vehicle are detected.
The vehicle's smartphone connection allows the driver to choose from 16.78 million mood colors for the vehicle's side panels at any time. The company focuses on high-end research, development, and manufacture and currently exports to 66 countries.
"It is a great honor for Yadea to join as Asian Regional Supporter of the FIFA World Cup. Being one of the most watched sports events, the FIFA World Cup fits seamlessly with Yadea's strategy of internationalization and premium positioning.
"Yadea will set its regional promotional campaigns in motion in parallel to the 2018 FIFA World Cup in order to engage with fans so that more and more people can have access to premium-quality, electric-powered motorcycles, bicycles, and scooters and enjoy a greener life," Yadea Technology Group President Liu Yeming said.
Yadea is the fifth Chinese company to sponsor the 2018 World Cup in Russia after China Mengniu Dairy, Hisense, Vivo and the Wanda Group. Whilst some point to companies such as Sony, Emirates, Castrol, Continental and Johnson & Johnson having failed to renew 2014 World Cup sponsorships, blaming the FIFA corruption scandal, FIFA have said a churn in sponsorship partners is a normal process and there is little doubt the new partners reflect an accelerating shift in relative economic strength between China, Europe, and the U.S.