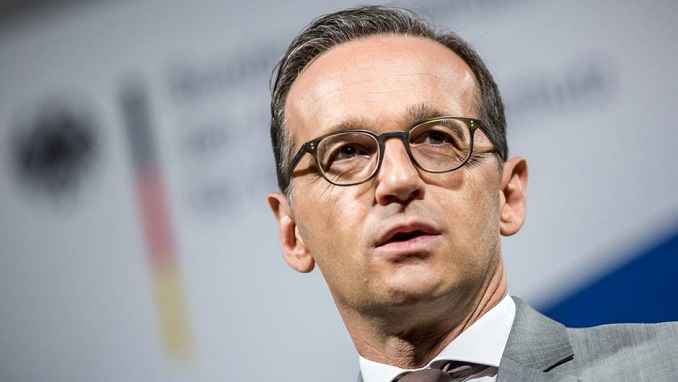 Germany's Foreign Minister Heiko Maas said on Friday his government will try to protect German and European companies from some potentially "massive collateral damage" if Washington levies further sanctions against Russia, Reuters reports.
Speaking on Friday at a new year reception of the industry group German Committee on East European Economic Relations, Maas said he expected the newly elected, U.S. Congress to move swiftly to bring new sanctions against Moscow.
"Our aim is to reach agreement (with the U.S. on sanctions) and protect German and European companies from the in some cases massive collateral damage," he said.
Germany has deep trade ties with Russia and depends on it for much of its imported gas.
The minister did not give further details but his remarks are likely to cheer German exporters hard hit by European Union and U.S. sanctions imposed after Moscow invaded and annexed parts of Ukraine in 2014.
"For us sanctions … only make sense when, as with the EU's sanctions, they are tied to clear, fulfillable conditions," said Maas, in an apparent softening of his more hawkish tone on Russia when he took office last year. "Sadly, that is no longer the case for U.S. sanctions."
Maas said he had told U.S. Secretary of State Mike Pompeo that sanctions targeting Nord Stream 2, a Russian-led pipeline project involving German and other European companies would not be appropriate.
The EU last month extended for a further six months sanctions targeting Russia's financial, energy and defense sectors. They were originally imposed in July 2014 after Russia's annexation of Ukraine's Crimean peninsula.
But on Friday, the European Union urged the U.S. Congress to support the Treasury's plans to lift sanctions on Rusal, a Russian aluminum company controlled by Vladimir Putin ally Oleg Deripaska, saying the sanctions have harmed European industry.
Aluminum plants "in Austria, France, Germany, Ireland, Italy, Sweden, and the United Kingdom have faced increased prices and significant challenges in maintaining their daily operations" since the U.S. imposed sanctions last year on companies controlled by Russian businessman Oleg Deripaska, said a Jan. 4 letter signed by ambassadors from the E.U. and the named countries.
The EU published the letter, sent to House Speaker Nancy Pelosi and Senate Minority Leader Charles E. Schumer, on Friday, a day after House Democrats expressed concern about Treasury's plans to lift the sanctions on Rusal and two additional companies controlled by Deripaska.