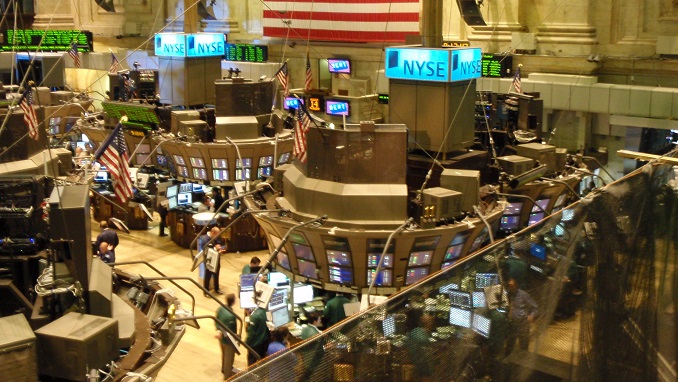 The Dow Jones industrial average marked its biggest ever single-day point drop on Monday afternoon, plunging nearly 1,600 points during trading hours before recovering to close down 1,175.
Officially the Dow fell 1,597, a 6.26 percent drop. But the index of 30 large U.S. companies was recovering some of that decline as the day headed toward the closing bell at 4 p.m. in New York, Vox reported.
The Dow wasn't the only stock index to suffer losses; the S&P 500 fell 4.1 percent and the Nasdaq Composite slumped 3.8 percent. Financial, healthcare, and industrial sectors all took significant hits.
Asian stocks also plunged Tuesday after the record-breaking loss on Wall Street, extending a global rout as panicked investors fret over rising U.S. borrowing costs and cash in profits after months of market euphoria.
Tokyo led a collapse throughout the region, diving more than five percent, with Hong Kong down more than four percent and Sydney sinking three percent.
Other assets were also hammered, with a slump in oil prices scything energy firms, while higher yielding currencies have been hit by a flight to safe havens.
Global stocks have enjoyed months of surges fueled by optimism over the U.S. economy, corporate earnings, and the global outlook.
The winning streak was fanned by the passage of U.S. President Donald Trump's massive tax cuts bill in December, which led several big-name firms to announce pay hikes and bonuses.
At the same time, the economy continues to improve across the board.
But while traders have been piling into equities, pushing many global indexes to record or multi-year highs, there has been growing concern on trading floors about elevated U.S. Treasury bond yields — at four-year highs — and the likelihood of fresh Federal Reserve interest rate hikes.
"There are a few reasons behind the Dow's sudden plunge: First of all, there's new leadership at the Federal Reserve, bringing concerns that the Fed could raise interest rates to combat inflation. The Fed will likely do this slowly, but there are still fears this would raise the cost of mortgages and loans, as well as company loans," CNN's David Goldman wrote.
Selling kicked in on Friday when official data showed another jump in U.S. jobs and a rally in wage growth, fueling worries that inflation will surge this year and the Fed will be forced to hike rates more than expected this year.