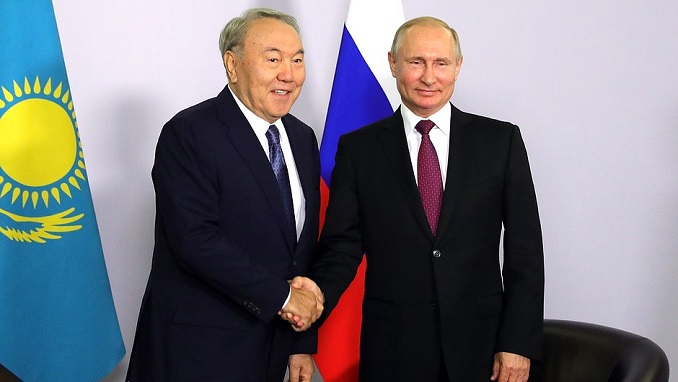 Trade turnover between Kazakhstan and Russia may reach $18 billion by the end of 2018, the Russian trade representative in the Central Asian country Alexander Yakovlev has said, according to Azer News.
"Russia annually invests more than $1 billion in the economy of Kazakhstan. Today, more than 100 investment projects of Russian companies are being implemented or are being prepared for implementation in the territory of Kazakhstan. So, the trade turnover between our countries is growing. While in 2017 it reached $16 billion, the figure will amount to $18 billion by the end of this year, according to our forecasts, that is, the expected growth is $2 billion," the trade representative said on the sidelines of the 26th Kazakhstan international conference, Oil and Gas – KIOGE 2018.
"We expect that the trade turnover between our countries will amount to $24-24.5 billion by the end of 2020," Yakovlev said. He noted that in the Russian-Kazakh trade turnover, in particular in the oil and gas industry, the leading place – about 22 percent – is occupied by machinery with high added value. According to Yakovlev, the amount of Russian investment in the economy of Kazakhstan is about $12 billion.
Kazakhstan has been looking to exploit current geopolitical tensions between the U.S., China, and Russia to strengthen its economy and move it away from traditional resource-based revenue.
The two countries were among the signing parties this month of a long-awaited five-state agreement on the division of resources in the Caspian basin, deemed by analysts as "historic." The region is the world's largest inland body of water and has potentially enormous oil and natural gas reserves.
The deal, though, is only part of a much bigger game, The Nikkei Asian Review wrote. China is expanding its regional clout through the Belt and Road Initiative, which includes the development of a trade route through Kazakhstan and the Caspian Sea to Europe. The U.S. and Russia, meanwhile, are wrestling for control of key Kazakh ports.
Many observers say Russia was the driving force of the Caspian deal, since dubbed the Aktau Convention. The agreement "ensures the Caspian Sea's truly peaceful status and the absence of extra-regional states' militaries there," Russian President Vladimir Putin said after the summit.