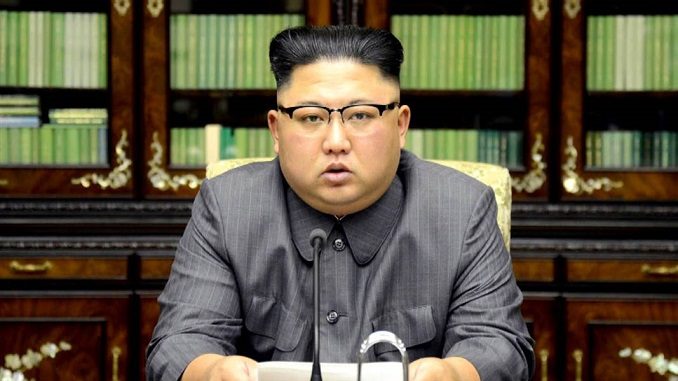 North Korean leader Kim Jong-un was traveling to Russia on Tuesday in a possible attempt to win the country's help as the U.S.-led trade sanctions hurt his country's already-struggling economy, the BBC reports.
Although there are no signs of a financial or humanitarian crisis in North Korea, some observers say the sanctions, toughened over the past several years, are gradually drying up Kim's foreign currency reserves and he is desperate to find ways to bring in fresh money. His propaganda service is already saying that North Koreans can survive with only "water and air."
Russia, along with China, has called for the easing of the sanctions, though both are members of the U.N. Security Council, which has approved a total of 11 rounds of sanctions on North Korea since 2006. Some experts say Kim may ask Russian President Vladimir Putin in a meeting set to take place in the Far Eastern port of Vladivostok on Thursday to voice strong opposition to the sanctions, enforce them less stringently and send humanitarian food aid to North Korea.
It's still unclear how much assistance Kim could get from Putin. Along with China, Russia isn't likely to want to openly evade the sanctions and face diplomatic friction with the United States. More than 90% of North Korea's foreign trade has gone through China, with which it shares a long, porous land border.
The new sanctions especially affect North Korea's official external trade. According to China Customs figures, China's imports from North Korea dropped by 88% and exports to the North by 33% in 2018. South Korea's central bank said North Korea's economy contracted 3.5% in 2017 from a year earlier.
Analyst Go Myong-Hyun of the Seoul-based Asan Institute for Policy Studies told AP that Kim's Russia trip, the first by a North Korean leader since 2011, may have been planned long before the February breakdown of the second summit between Kim and Trump in Vietnam. Go said North Korea and Russia had wanted to discuss economic cooperation if the summit had resulted in an easing of sanctions.
A request by Kim for food aid will still likely be on the agenda. In February, North Korea's ambassador to the United Nations, Kim Song, issued an unusual appeal for "urgent" food assistance. North Korean officials blamed the shortage on bad weather and the sanctions.
Analyst Cho Bong-hyun of Seoul's IBK Economic Research Institute said North Korea needs more than 1 million tons of food aid, so it would want Russia to provide hundreds of thousands of tons of corn, flour and other foodstuff. Russia could send North Korea food, but mostly in a secret manner, Cho said.