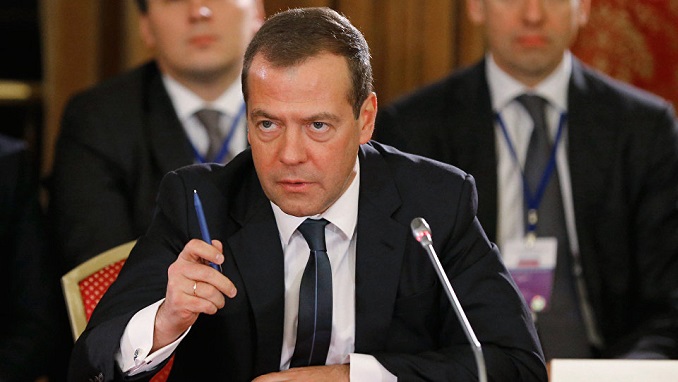 Russian Prime Minister Dmitry Medvedev told reporters on Monday the trade war is already underway, "bringing certain benefits to its initiators but there will be no winners at the end of the day," Interfax news agency reported.
"It has already been waged. It is underway. All of us are witnesses that this war in general terms is already bringing certain benefits to specific countries attempting to press on their course. On the other hand, it brings costs to the whole global trade. Certainly, there will be no winners eventually, like in any war of such kind," Medvedev said, speaking during a visit to Vietnam.
International economic relations and international trade suffer from the trade war, the Russian Prime Minister noted.
"Yes, it is possible to gain partial advantages – to introduce duties and support the internal market a bit in a certain way, but this will eventually return back after some time through problems that will arise with your businessmen but dealing with different issues," Medvedev said, citing the example with the United States, where prices for certain goods rose after the introduction of protective duties.
"That is why we support keeping nevertheless the regime of open, free trade, principles of the so-called multilateralism or principles of multilateral relations in trade, and seeking to fix these principles but on a more modern basis," Medvedev said. This position has many supports, including China, Vietnam, and European countries, he added.
During his visit to Hanoi, Medvedev and his Vietnamese counterpart Nguyen Xuan Phuc pledged to nearly triple their countries' two-way trade to $10 billion by 2020 from $3.55 billion last year.
Russia currently invests in over a hundred projects in Vietnam worth $990 million, many in oil and gas exploration and exploitation, according to Vietnam's Foreign Ministry.