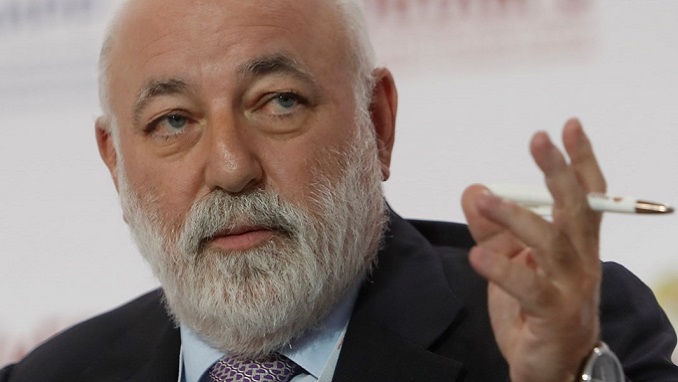 Russian billionaire Viktor Vekselberg, who years ago was welcomed with open arms by U.S. companies, universities, and even the government, has seen his ties with American institutions and companies disappear after he was sanctioned by the U.S. last year, RFE/RL writes.
At the time Vekselberg built his American connections, Washington's relations with Moscow were being reset, and Vekselberg was heading a Kremlin-backed initiative called Skolkovo to develop high technology, research, and entrepreneurship. To complete the academic piece of his innovation center, dubbed Russia's "Silicon Valley," he needed to partner with a prominent U.S. academic institution.
One of the world's most prestigious, and wealthiest, universities, the Massachusetts Institute of Technology (MIT) embraced the effort and entered a $300 million collaboration to found the Skolkovo Institute of Science and Technology, or Skoltech, outside the Russian capital.
MIT elected Vekselberg to its board of trustees in 2013, a move that appeared to cement a lasting relationship. But today you won't find the Russian billionaire identified as a trustee.
The Cambridge, Massachusetts-based university quietly scrubbed Vekselberg from its board in 2018, following the U.S. Treasury Department's decision to list him and his business group among the Russian officials, "oligarchs," and companies to be penalized for advancing Moscow's "malign activities."
Responding to inquiries from RFE/RL, MIT said only that Vekselberg had been "suspended" from the board not long after the Treasury announcement on April 6.
The previously unreported development reveals an effort to shield MIT from legal problems raised by continuing to do business with someone on the U.S. blacklist. It also highlights how U.S. companies and organizations have sought to untangle themselves from such relationships amid the downward spiral in U.S.-Russian relations, RFE/RL writes.
Vekselberg, who made his billions in Russia's metals industry and whose Swiss-based investment company is known as Renova Group, was first elected as an MIT "term member" trustee in 2013. He was re-elected two years later.
Seen as an influential, forward-thinking Russian business leader, Vekselberg's relationship with MIT went back to at least 2010, when the university reached an agreement with the Russian government to "work together to assess opportunities for MIT to conduct educational and research activities in Russia."