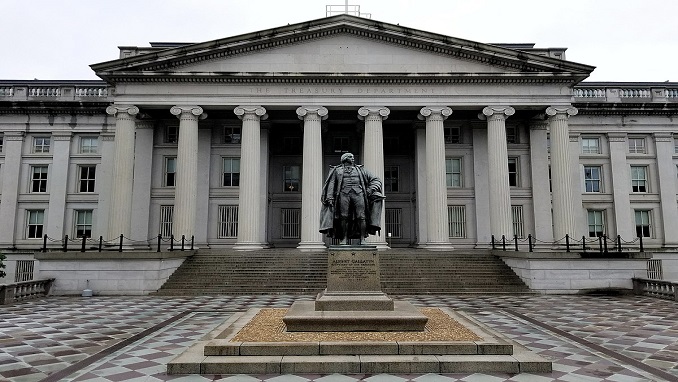 Almost all of the 96 Russian individuals with a net worth of at least USD 1 billion and who are now listed as "Oligarchs" in the U.S. Treasury Department's report can be found in the Forbes ranking of the 200 richest businessmen in Russia 2017. The similarity between the list and the ranking has been widely noted on various social media channels.
The list was released late Monday evening and details 210 Russian individuals who are either senior political figures or Russian individuals who have an estimated net worth of USD 1 million or more. The Treasury Department and the administration has made clear that this is not a sanctions list, though some of the individuals on the list are already subject to U.S. sanctions.
"The fact the list of oligarchs released resembles Forbes' rich list, more than it does a public airing of organized corruption centered on the Kremlin, could mitigate slightly some of the concerns of those named regarding potential fallout," Max Hess, senior political risk analyst at AKE group, told CNBC Tuesday.
The similarity between the U.S. government-issued list and the Forbes ranking has already caused ridicule on social media, and will likely attract criticism over the thoroughness of the Treasury Department's work, CNBC wrote.
The Associated Press noted that some of the individuals who are named as oligarchs on the list have fallen out with the Kremlin entirely, like the Ananyev brothers, who fled the country last year and vowed to sue the Russian government after their bank was declared bankrupt.
Back in Russia, the Chairman of the Russian Federal Council's international affairs committee, Konstantin Kosachev, quipped in a Facebook post that "U.S. intelligence agencies, desperate to find the promised dirt on Russian politicians, simply rewrote the Kremlin phone book."
Segments of the Treasury report, which was mandated by Congress as part of Countering America's Adversaries through Sanctions Act (CAATSA), remain classified. It reportedly contains more names of individuals and entities, some of whom have a net worth of lower than $1 billion.
The release of the report coincides with a sanctions deadline set by the CAATSA, which Trump signed only after expressing significant opposition to it.