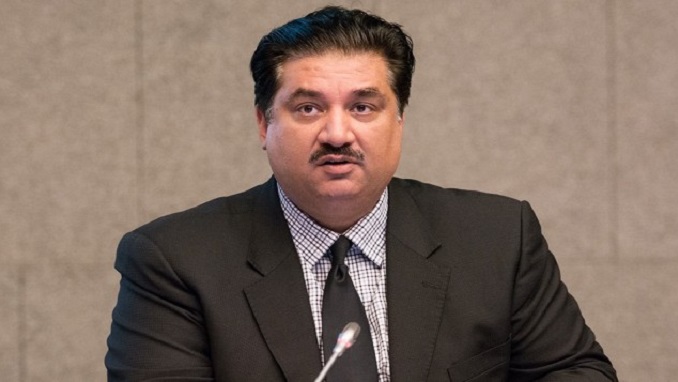 Pakistan's defense minister has said his country is deepening its relationships with Russia and China after the U.S. decided to suspend $2bn in military aid to Islamabad.
Khurram Dastgir Khan told the Financial Times that his government was engaged in a "regional recalibration of Pakistan's foreign and security policy" that threatens to undermine the U.S. war effort in Afghanistan.
After the U.S. had "chosen castigation over co-operation", Khan said Pakistan would now look to Russia and China — as well as Europe — for new military supplies.
"We have already bought some Russian helicopters in the past three years," he said. "This is what we call a regional recalibration of Pakistan's foreign and security policy. It's because of the unfortunate choice the United States continues to make."
Washington says Islamabad is refusing to do enough to tackle terrorism, particularly around the Afghan border, which led to the decision to halt military aid.
Afghanistan has suffered a string of deadly attacks in recent years — some apparently originating from across the Pakistani border. In an effort to restore security to the country, President Donald Trump has reversed the policy of removing U.S. troops from the war-torn country.
This month, Trump tweeted that Pakistan had taken $33bn of U.S. aid over 15 years and given back "nothing but lies and deceit". Khan called his comments "deeply offensive" and "counterproductive".
"It is unfortunate that we are even discussing the numbers [the amount of aid] while Afghanistan slowly spirals out of the American and Afghan control," Khan added.
Asked about reports that Islamabad could buy a batch of Sukhoi Su-35 fighter jets from Russia, Khan said "not yet", but added that "We have opened a dialogue with Russia, which traditionally we have never had because we were firmly in the western camp."
The backbone of the Pakistan air force currently consists of F-16 jets made by Lockheed Martin of the U.S., although Khan said Islamabad had not received spare parts from the U.S. for several years.
"We are using our own ingenuity and using other sources to keep the fleet up in the air," he said. "It has been very difficult."