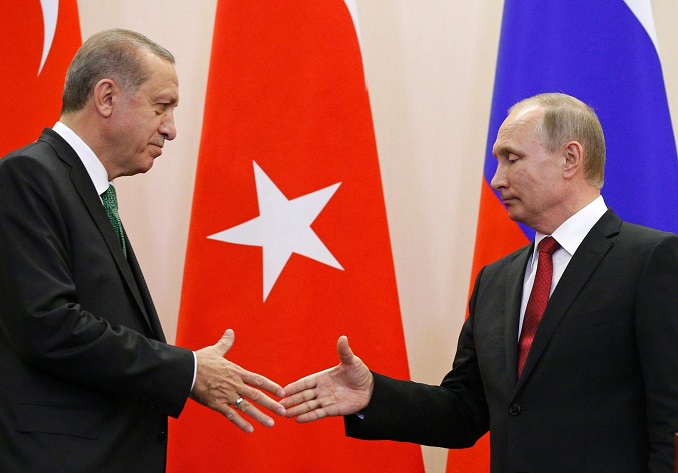 Turkish President Recep Tayyip Erdogan and his Russian counterpart Vladimir Putin met in Moscow on Tuesday and pledged to continue their defense cooperation, including on warplanes, Bloomberg reported.
Turkey has been locked in a dispute with its NATO ally the United States over the purchase of American F-35 fighter jets, as Ankara defied Washington this year and decided to go through with the purchase of Russia's S-400 missile defense system.
Putin told reporters Tuesday that Russia's ready to "actively discuss" further sales and even joint production of weapons following Turkey's acquisition of the advanced S-400 air-defense system.
"We talked about cooperation on the Su-35" fighter jet and "about possible work even on the new Su-57 plane," Putin said, after he and Erdogan inspected the cockpit of the fifth-generation warplane at an airshow outside Moscow.
Erdogan said Turkey wants to continue "solidarity in many areas of defense industry" with Russia, including in fighter jets, and "we'll develop rapidly." The two leaders also sought to ease a rift over fighting in Syria's Idlib region.
Flanked by their defense ministers, Putin and Erdogan toured the MAKS-2019 international air show that's a showcase for Russian military technology, viewing displays of the Su-35, helicopters and an amphibious aircraft as well as the Su-57. When Erdogan inquired during the tour whether the Su-57 is available to buy, a smiling Putin replied "You can buy."
Erdogan's visit follows the U.S. decision earlier this year to suspend Turkey's ability to buy and help build the advanced F-35 stealth warplane in retaliation for defying Trump and taking delivery of the S-400. The U.S. says acquiring the system is incompatible with Turkey's role in NATO and the F-35 program because it may allow Russia to glean information about the fighter's advanced technology.
In another step that could further strain ties with the United States, Turkey took delivery on Tuesday of a second batch of Russian S-400 air defense equipment.
Turkey insists it was forced to turn to the Russian air-defense system because NATO partners including the U.S. wouldn't meet its defensive needs on Turkish terms. The U.S. has repeatedly offered to sell Patriot air-defense missiles to Turkey, but without the technology sharing that the Turkish government says it needs to develop its domestic production capabilities.