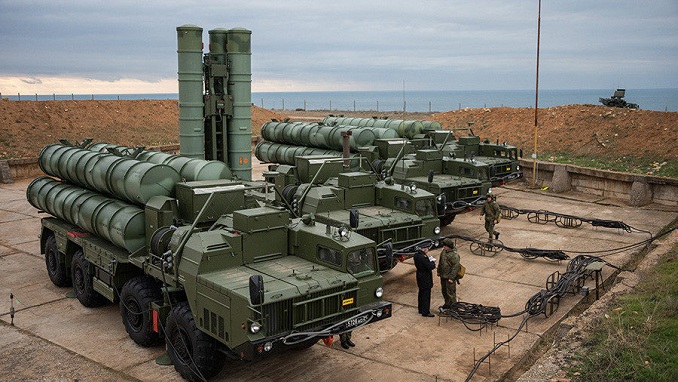 Turkey has begun taking delivery of Russia's S-400 air-defense system, completing a deal that is likely to trigger sanctions from the United States, CNN reported.
The first components for the system arrived Friday at Murted Air Base in Ankara, the Turkish capital, the Turkish Defense Ministry said in a statement. Turkish television stations broadcast footage of the delivery throughout the morning as Russian cargo planes arrived at the base and equipment was offloaded.
The purchase underscored President Recep Tayyip Erdogan's increasing willingness to coordinate with Russia and risked a new crisis in relations between Turkey and the United States. The Trump administration has given mixed signals about how exactly it might respond if Turkey went through with the deal. American officials, including Secretary of State Mike Pompeo, have warned of dire repercussions, including canceling sales of U.S.-made F-35 fighter jets to Ankara and the imposition of sanctions under a 2017 law on cooperation with adversaries.
The United States has been unyielding in its opposition to Turkey's acquisition of the S-400. American officials have argued that the missile system is incompatible with NATO equipment and that having Turkey operating both the Russian weapons and the F-35 could give Russia access to the American jets' secret stealth technology.
The delivery of the S-400 is likely to worsen strained Turkish-American relations, despite expressions of friendliness between Erdogan and President Trump at the Group of 20 summit meeting in Japan last month.
Washington is expected to level sanctions against Turkey over its acquisition of the Russian system, penalties mandated by the Countering America's Adversaries Through Sanctions Act (CAATSA) which penalizes countries that purchase military equipment from blacklisted firms.
Ellen Lord, Under Secretary of Defense for Acquisition and Sustainment, told reporters at the Pentagon last month that "there is strong bipartisan U.S. congressional determination to see CAATSA sanctions imposed on Turkey if Turkey acquires the S-400."
Sanctions could severely hurt Turkey's economy, which is suffering from the fallout of Erdogan's recent move to sack the governor of the Turkish Central Bank.