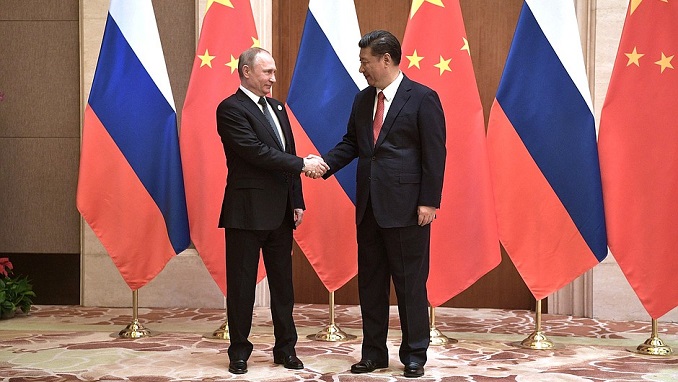 Russia is working on implementation of the agreements with China and is satisfied with the way relations with its neighbor develop, President Vladimir Putin told Yang Jiechi, member of the Communist Party of China (CPC), after meeting him at a session of the Valdai International Discussion Club on Thursday, according to TASS.
"We in Russia will be working to implement the agreements that we arrived at during a visit of Chinese President Xi Jinping to Vladivostok for the Eastern Economic Forum," he said. "We can be pleased with the way our relations develop. We rate highly the additional efforts towards the development of Russian-Chinese relations that we and Chinese friends make," Putin said.
Putin believes that trade problems between the United States and China give Russia new opportunities to enter the Chinese market. He also said that Russia plans to take the new open niches in China.
Responding to questions from participants in the Valdai International Discussion Club, Putin noted that, due to problems between the U.S. and China, President Xi Jinping's initiative One Belt, One Road becomes even more relevant because all economic constraints, on the one hand, put pressure on the global economy and markets, but on the other hand create certain "windows of opportunity."
For example, he mentioned supplies of soybeans to China from the United States.
"So now we will be gradually entering this market with our soybeans and let the Chinese partners produce soybeans in the Far East if they want to invest their money," the Russian leader said.
Among other projects, he called the development of infrastructure and transport routes.
"Of course, we are interested in developing Trans-Siberian railroad and Baikal Amur mainline, we expect that the freight traffic will increase four times by rail, the freight traffic along the Northern Sea Route will grow to 80 million tons," Putin said.