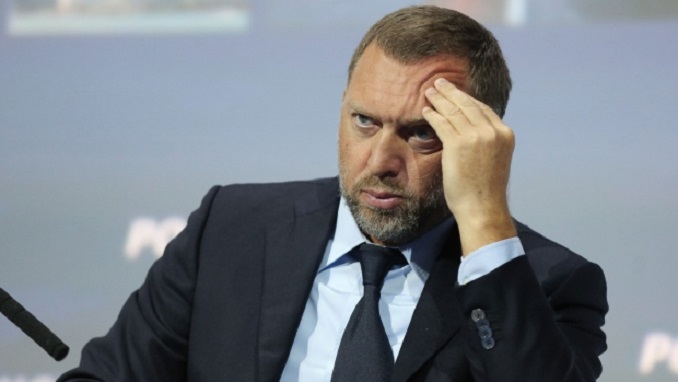 A United States plan aiming at removing sanctions against Russian companies En+ and Rusal implies that their owner Oleg Deripaska will pass their shares to structures and managers approved by the U.S. Treasury Department's OFAC division, RBC reports.
U.S. Treasury Secretary Steven Mnuchin said last Friday that his agency is open to removing aluminum producer Rusal from the U.S. sanctions list, adding the objective was "not to put Rusal out of business."
En+ Board Chairman Lord Gregory Barker has proposed excluding the holding from the U.S. list of sanctions until Deripaska's share in his capital is formally reduced, according to the files of the Mercury company submitted to the U.S. Department of Justice.
Lobbyists from Mercury, as well as the Rothschild investment bank and consultants from Russell Reynolds, are providing support for Barker, according to the files.
Barker's plan will take time as a substantial number of deals and decisions by regulators included in it are expected in August and September, lobbyists from Mercury wrote, suggesting that OFAC should exclude the company from the sanctions list until the final outcome.
According to rating agency ACRA's analyst Maksim Khudalov, the remaining question is how the plan will consider the interests of the Russian state that have pledged to support Rusal's plants if the company gets foreign managers, said. He also noted that the implementation of this plan does not show Deripaska's profit – even if the two companies are removed from sanctions, he wouldn't be able to receive dividends as they would be blocked in a special escrow account.
On April 6 this year, the U.S. Treasury Department imposed sanctions on Oleg Deripaska, as well as Gazprom CEO Alexei Miller, VTB head Andrei Kostin, owner of Renova Viktor Vekselberg, Surgutneftegaz CEO Vladimir Bogdanov, Sibur board member Kirill Shamalov, businessmen Igor Rotenberg, and Suleiman Kerimov.
Among the companies slapped with the latest sanctions are several enterprises belonging to Oleg Deripaska, including Agroholding Kuban, Eurosibenergo, Rusal, Russian Machines Holding and GAZ Group, the B-Finance investment company, Basic Element, and En+. Later, U.S. authorities said that sanctions relief could be provided for Rusal if its co-owner Oleg Deripaska divested and relinquished control over the company.