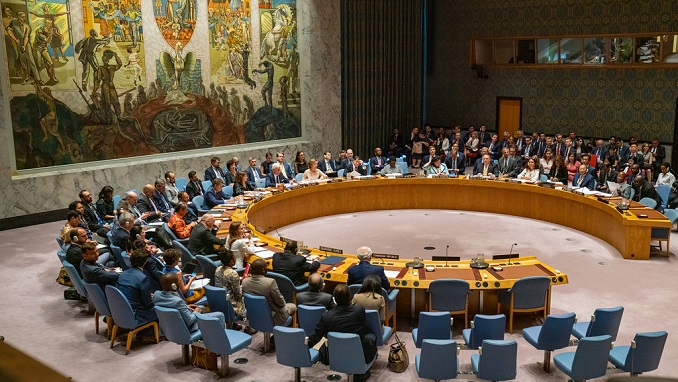 The UN Security Council turned down the Russian-backed draft resolution on the delivery of humanitarian aid to Syria via one crossing on the border with Turkey, a source in the organization told TASS on Wednesday.
Seven countries voted against the resolution (the United Kingdom, the United States, France, Belgium, Germany, the Dominican Republic and Estonia), four – in favor (Russia, China, Vietnam and South Africa), four abstained (Indonesia, Niger, Saint Vincent and the Grenadines and Tunisia).
The vote was carried out in written format due to restrictions at the UN headquarters, imposed due to the novel coronavirus pandemic.
The Russian proposal stipulated extending the mechanism of humanitarian deliveries to Syria's affected regions by another six months, but limiting the number of border crossings for those delivered to one facility – the Bab al-Hawa checkpoint on the Turkish-Syrian border.
On June 7, Russia and China vetoed a draft resolution by Germany and Belgium, which suggested leaving two border crossings open for aid deliveries to Syria.
The current arrangement on aid deliveries to Syria expires on July 11. Therefore, the Security Council has 48 hours to forge a compromise.
Permanent Representative of the Russian Federation to the UN Vasily Nebenzya said on Tuesday that Russia considered it necessary to gradually curtail the cross-border assistance mechanism for Syria. In his words, the situation in Syria changed drastically over the past six years, and the territory controlled by the Syrian government has significantly increased. Therefore, humanitarian assistance to those regions can be carried out in coordination with the Syrian government.
The UN Security Council made the decision to start cross-border humanitarian operations in Syria in July 2014. In January of 2020, it extended the relevant resolution for six months, but the number of checkpoints was reduced from four to two on the border with Turkey. In July, the sponsors of the resolution, Germany and Belgium, proposed extending the work of two points for a year with the possibility of opening another checkpoint. Russia and China opposed this initiative.