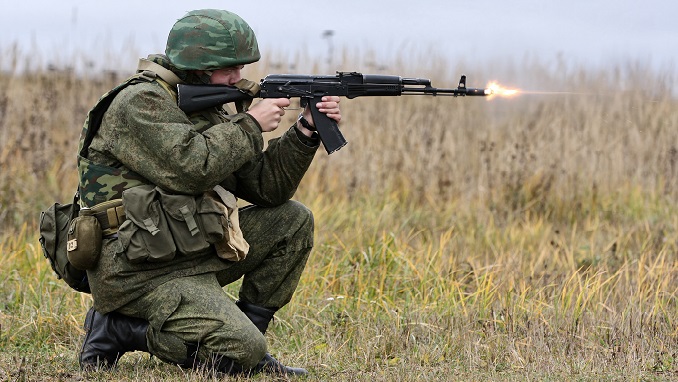 Russia's booming arms industry has signed export contracts worth $6 billion in 2017, fulfilling its goal and helping Russia close in on U.S.' top spot as a weapons exporting country.
According to Kommersant, next week President Vladimir Putin will hold a meeting of the Commission for military-technical cooperation, which will sum up the official results of arms exports for 2017.
The Russian arms order book nearly hit $50 billion, with sources telling the newspaper that a similar goal has been set for 2018. This, however, will be more difficult to attain it due to U.S. sanctions that entered into force on January 29 and are aimed at customers of Russian products, the sources said.
Two top managers from the defense industry told Kommersant about the upcoming meeting of the military-technical cooperation commission, and a presidential administration employee confirmed it. Several sources told Kommersant that the meeting could be held on Monday, but the Kremlin will publicly announce it later, as "everything will depend on the information corresponding to the presidential schedule." Kremlin Spokesman Dmitry Peskov later confirmed the meeting to Kommersant, without going into any details.
Officials said the plan of arms supplies to foreign customers was fulfilled, products were shipped for over $15 billion, and new contracts were inked for around $16 billion. The total portfolio of weapons orders, according to Kommersant's source in the military-technical cooperation sphere, remained at around $50 billion.
"Since 2012, when the figure exceeded $14 billion, the volume of exports had remained stable, despite all the restrictions and difficulties," a federal official told the newspaper.
Russia's traditional partners have secured a major share of the arms supplies in 2017, with China. India, Vietnam, Algeria, and Egypt among top buyers. In 2017, contracts were signed with principally new partners – Turkey, Saudi Arabia, and Iraq.
Kommersant sources in the military-technical cooperation sphere recognized that the 2018 goal greatly depends on U.S. sanctions that came into force on January 29. These restrictive measures will affect arms exports the most, since any country cooperating with Russia might come under the sanctions radar if the United States recognizes these weapons contracts as "significant transactions".