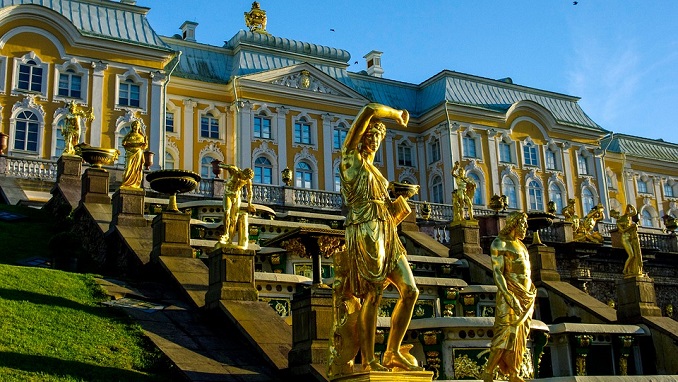 On Friday, a descendant of Russia's last emperor, Nicholas II, married in a grandiose ceremony, marking the country's first royal wedding in the century since the Bolshevik revolution deposed the monarchy.
Grand Duke George Mikhailovich Romanov married his Italian fiancée Rebecca Virginia Bettarini in front of hundreds of royal guests in St. Isaac's Cathedral in St. Petersburg, according  to Moscow Times.
Romanov said that the pair selected the old imperial capital for their wedding since it was the first location in Russia where the family returned after the fall of the Soviet Union.
The extravagant Russian Orthodox ceremony included Fabergé wedding rings, Sicilian wine, and cuisine prepared by catering tycoon Yevgeny Prigozhin, often known as "Putin's chef," according to Fontanka.ru.
Bettarini, 39, wore a white satin gown by Reem Acra, who has dressed celebrities such as Beyoncé, Madonna, Angelina Jolie, and Melania Trump, and a tiara created by Chaumet, the official jeweller to Empress Joséphine and Napoléon.
Among the hundreds of visitors were 50 royals from European nations like as Belgium, Bulgaria, Spain, and Naple. 
Sarah Fabergé and Russian Foreign Ministry spokesperson Maria Zakharova were both said to be on the guest list.
The wedding ceremony lasted around two hours, and only about a third of the attendees were admitted to the reception at the Russian Ethnographic Museum, which was established symbolically by Nicholas II.
George Romanov, 40, is a distant descendant of Nicholas II, who was murdered by Bolsheviks in the city of Yekaterinburg in July 1918, along with his family.
In Madrid, he was born to Grand Duchess Maria Romanova and Prussian Prince Franz Wilhelm of Hohenzollern. He spent the most of his childhood in Spain and France before visiting Russia for the first time with his grandpa Vladimir in 1992, a journey Georgy described as "full with passion."
His grandmother is the granddaughter of Grand Duke Kirill Vladimirovich, a first cousin of Nicholas II, who left Russia after the revolution and proclaimed himself Emperor from exile.
He has worked in the European Parliament and the European Commission, as well as as an adviser to the head of the Russian mining conglomerate Norilsk Nickel. He now works on charitable initiatives from the couple's home in downtown Moscow.
During his tenure in the European Parliament, he met Bettarini in Brussels. Bettarini, the daughter of the Italian Ambassador to Belgium, has worked as a writer and lobbyist before becoming the head of the Russian Imperial Foundation. Bettarini, in the Russian imperial tradition, switched to the Russian Orthodox religion and adopted the name Victoria Romanovna last year.
"A new chapter in our life story is beginning. As a writer, I hope the road ahead is as full of love, intrigue, and adventure as the first chapter of our life story," Bettarini said on Instagram after they announced their engagement.
Earlier this year, Romanov told The Insider that he hoped the wedding would highlight "the beautiful side of Russia, the beauty, the culture, and the history."