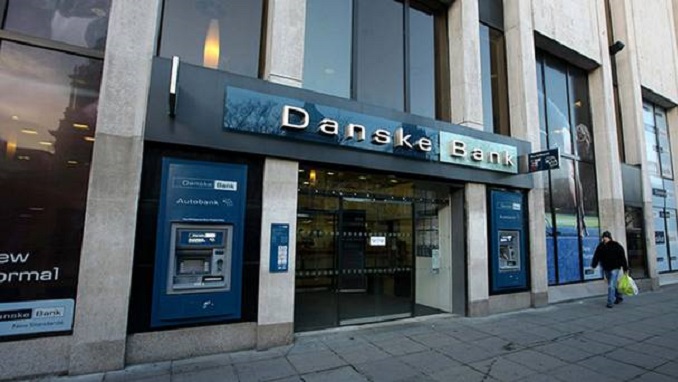 The Estonian branch of Denmark's biggest bank closed the accounts of several companies in 2013 after realizing they had been used by a member of Vladimir Putin's family and Russia's intelligence service, FSB, to launder huge amounts of money, a leaked report published by the Organized Crime and Corruption Reporting Project (OCCRP) reveals.
According to the report, a whistle-blower had informed the Danske bank's Executive Board that the anti-money laundering procedures at its Estonia branch had completely failed and that the bank may "have committed a criminal offence" by aiding a company that had made several suspicious transactions and whose actual owners "included the Putin family and FSB."
The Estonian branch of Danske Bank is already implicated in other money-laundering schemes, involving billions of dollars from Azerbaijan flowing through it, some of which ended up in the pockets of European politicians who praised the Baku regime, marked by international organizations as a chronic human rights abuser.
Another OCCRP investigation – the Russian Laundromat – revealed that huge amounts of money – $20–80 billion – was moved out of Russia through a network of global banks, including Danske.
The latest revelations come from a whistle-blower report that was recently obtained by the Danish newspaper Berlingske and shared with the OCCRP and The Guardian.
It says that the company Lantana Trade LLP had in 2013 falsely reported to the UK Companies House that it had a low turnover and was dormant. In fact, huge amounts of money passed through the accounts daily.
The branch failed to establish who controlled the company which had made "suspicious payments just under compliance control limits," according to the whistle-blower's account.
Asked how serious the bank's failure was, International financial investigator, L. Burke Files, said, "on a scale of 1 to 10 – it was an 11."
"The activity in the account was in every way indicative of money laundering – many large transactions and all of them done in one or two days – money did not linger," he explained.
Only after the transfers were already made, the branch launched an internal investigation that revealed who the company's owners really were and that they "have been involved with several Russian banks that had been closed down in recent years," the report says.
One of those banks was the little-known Promsberbank, based near Moscow, that lost its license in 2015, the same year Lantana was dissolved. One of Promsberbank's board members was Vladimir Putin's cousin, Igor Putin, who also sat on the board of the Russian Land Bank, RZB, which was involved in the Russian Laundromat scheme.