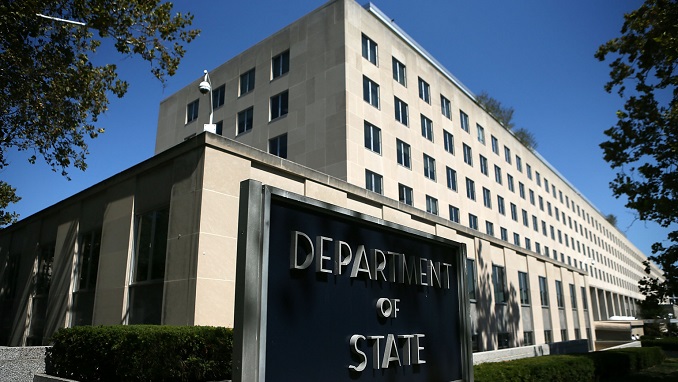 The United States State Department on Monday unveiled a new program to counter foreign interference in the 2018 U.S. midterm elections, CNN reported.
The long-awaited announcement said the $40 million initiative will battle state-sponsored disinformation and propaganda targeting the U.S. and its interests, but avoided mentioning Russia by name.
The program will be run from the State Department's Global Engagement Center (GEC) and is starting with a new $1 million Information Access Fund that on Monday announced a request for proposals from groups and agencies across the country. The fund will eventually grow to $5 million.
"Under the Information Access Fund, civil society groups, media content providers, non-governmental organizations, federally funded research and development centers, private companies and academic institutions will be eligible to compete for grants from the GEC to advance their important work to counter propaganda and disinformation," according to a statement released Monday morning.
The Global Engagement Center will later launch a series of pilot projects developed with the Department of Defense with additional funding, the statement said.
The effort was ordered by Congress last summer in response to Russia's meddling in the 2016 presidential election — and to counter Russian efforts to impact U.S. politics that continue to this day — but was awaiting funding from the Defense Department.
Goldstein acknowledged that the funding took longer than expected but insisted the delay "hasn't inhibited the Global Engagement Center from doing its job" of countering state-based efforts to change the U.S. political conversation.
"This administration takes that very seriously," he said.
Russia's influence has been well documented in the U.S. and abroad. During and since the 2016 presidential election, U.S. intelligence agencies concluded that hackers working for the Russian government used cyberattacks to undermine Democratic candidate Hillary Clinton and help the prospects of Republican candidate Donald Trump. Special counsel Robert Mueller is investigating whether any collision occurred between Trump's campaign and the Russians and has charged four former campaign staffers.
Mueller on Feb. 16 indicted 13 Russian nationals in connection with efforts to influence the 2016 election. According to the indictments, they worked for the Internet Research Agency, based in St. Petersburg, Russia, which had a $1.25 million monthly budget and 200 to 300 employees focused mostly on the U.S.