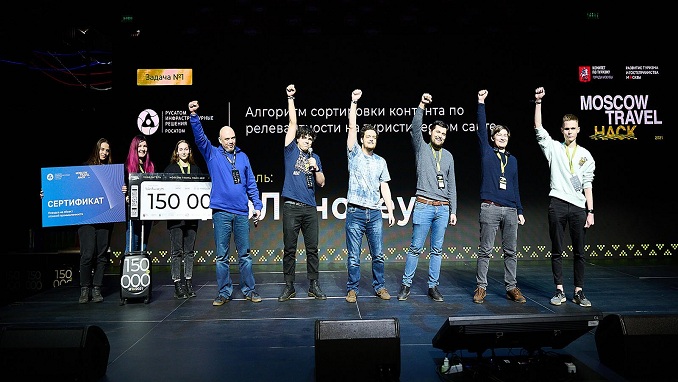 On March 27 and 28, the finals of the second Moscow Travel Hack – a hackathon on digitalization of the tourism sector – were held at the Irina Viner-Usmanova Center for Gymnastics in Moscow. The teams spent 30 hours solving travel-related tasks set by the hackathon's organizers and partners, after which a jury selected 10 teams.
The Moscow Travel Hack is organized by the Moscow's Tourism Committee. Its chairman, Ekaterina Pronicheva noted: "Today digital solutions are basic for almost all successful travel products and services. This trend has intensified especially since the pandemic. The solutions obtained within the framework of the hackathon are a good start for future projects in the travel-tech, which may affect the further development of tourism."
The hackathon received 1,297 applications from 2,250 participants, from which 60 teams from 16 regions of Russia were selected to take part in the finals. The competition was won by 10 teams chosen by the jury – one for each task. One of the tasks was to develop software enabling employees of the Garage Museum of Contemporary Art to record the results of visitor monitoring and perform an initial data analysis. The finalists were also asked to create a software app enabling customers to book the business lounge and arrange assistance at Moscow Domodedovo Airport, as well as to complete a quick online security check.
The Moscow Travel Hack is the second large-scale hackathon dedicated to digitalization of Moscow's tourism and hospitality industry. The aim of the event is to help develop new technologies in Moscow's tourism and hospitality sphere. The prize fund amounted to 1,500,000 rubles and the team that offered the best solution received 150,000 rubles.
"Moscow is committed to developing its services and creating new products in the tourism industry. This is not only convenient for the city's visitors, but it's also beneficial for Muscovites. Having invited entry-level and experienced IT developers to this event, we received dozens of fresh ideas, the best of which can easily be put into practice," said Eduard Lysenko, Minister of the Government of Moscow and Head of the Department of Information Technology.
The hackathon also included an educational program featuring a business game and presentations by representatives of the tourism and hospitality industry on digitalization and new technologies. The Moscow Travel Hack was organized by the city's Committee for Tourism.