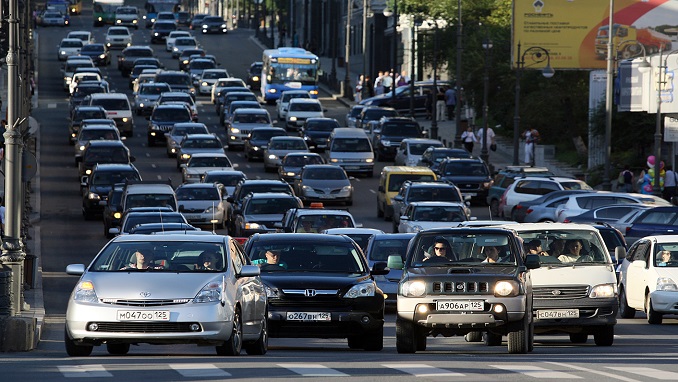 American cars being sold in Russia could soon face higher taxes if the government approves measures aimed at the U.S. in retaliation for new tariffs on metal imports imposed by Washington, the country's Economy Minister Maxim Oreshkin said.
According to TASS, Oreshkin said that Russia would soon introduce additional import duties on U.S. goods that have substitutes on the domestic market, which includes cars and other vehicles, in response to the tariffs on steel and aluminum imposed by the Trump administration in March.
From Brussels to Beijing, U.S. trade partners have been introducing tit-for-tat measures after the new duties (10% for steel and 25% for aluminum), which Washington has said are mainly aimed at China.
Russia estimated the economic damage from the U.S. moves at $538 million, but the economy ministry said this week that initially not more than $100 million in imports from the U.S. are likely to be hit with higher levies. Final decisions on what tariffs Russia will raise are expected in the near future. Oreshkin said the government isn't planning to slap higher taxes on U.S. pharmaceuticals, a politically sensitive area.
The U.S. is Russia's sixth-largest trading partner, according to the ministry, with a turnover of $23.1 billion in 2017. Imports from the U.S. totaled $12.5 billion, with aircraft, vehicles, and pharmaceuticals among the largest individual components. Imports of cars and other passenger vehicles totaled $837 million last year.
Many of the vehicles imported from the U.S. to Russia aren't made by American companies, according to data from Autostat provided to the RNS news service. In addition to General Motors Co., producers selling U.S.-made vehicles in Russia include Bayerische Motoren Werke AG, Daimler AG, Volkswagen AG, Fiat Chrysler Automobiles, Toyota Motor Corp. and Honda Motor Co., according to Autostat. Most of the models shipped from the U.S. are lower-volume niche ones, according to the report.