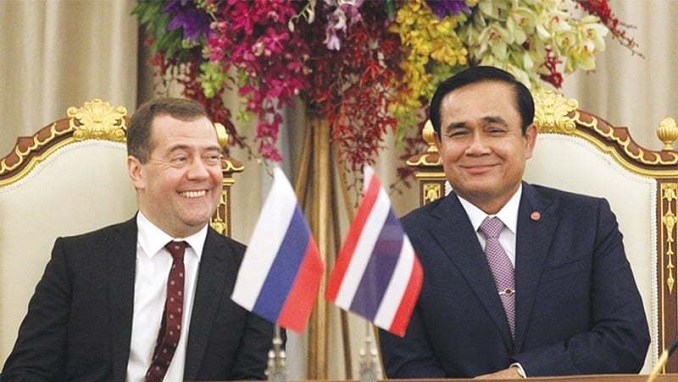 Russia and Thailand have signed a deal for cooperation in tourism, called the "2020 program for tourism cooperation", Tass news agency reported. The deal was signed by the head of Russia's Federal Agency for Tourism (Rostourism) Oleg Safonov and the Thai Minister of Tourism and Sports Weerasak Kowsurat, on the sidelines of the ASEAN Tourist Forum in Thailand's Chiang Mai.
The program is aimed at mutually increasing tourist traffic. "In order to achieve this goal, we will launch a campaign dubbed Thailand's Amazing Year of Tourism in Russia." "We will also exchange promotional materials and arrange introductory visits," he added.
Besides, the parties agreed to cooperate in strengthening the safety of tourists.
"Security issues are particularly important for us because a large number of Russians are traveling to Thailand and unfortunately, accidents happen. Our goal is to make everything possible in order to protect Russian tourists as much as possible," Safonov pointed out.
Thailand's minister of tourism and sports, in turn, said that "we are very grateful to Russia as many tourists have been regarding our country as their favorite destination for many years."
According to Thai authorities, more than 1.3 million Russians visited the country in 2017. Rostourism says that in the first nine months of 2017, the number of Thai tourists visiting Russia grew by 56% to 33,000.
Russian tourists have been important not only for the Far East and Southeast Asia countries but for the Middle East, as well. This week, the World Tourism Organization (WTO) said Chinese and Russian visitors boosted Middle Eastern tourism last year following a 2016 slump as Europeans gave the area a wide berth on security fears.
The Mideast region as a whole drew 58 million foreign tourists in 2017 – a 4.8 percent rise on the previous year – the Madrid-based WTO said in its latest figures released midweek.
According to Arabian Travel Market 2018, the number of Russian tourists traveling to the Gulf in 2020 is expected to be 38% higher than the arrival figures recorded for 2016.
In the first three quarters of 2017, Dubai reported a 98% year-on-year increase in the number of Russian arrivals, and the country is one of the emirate's top 10 source markets. Further supporting the demand, Fly Dubai twice extended its Russian network in 2017, adding flights to Makhachkala, Voronezh and Ufa, and daily flights to a second airport in Moscow – Sheremetyevo International.